Newsletters
Annie's Ramblings 19th March 2021 - Hot Cross Buns and Winter Projects
Hi there. I must admit to the weakness for a good hot cross bun at this time of year...but genuine ones, none of the chocolate chips and cranberry nonsense! Of course dark chocolate is also a weakness...but that is another story.
With the Easter weekend sneaking up on us, it must be time to hunker down with a winter stitching project.
This is a table runner that I finished recently using the idea of traditional Japanese boro stitching, but giving it a twist with Kaffe Fassett shot cottons and stripes and Sue Spargo Pearl 8 threads. You can improvise and make your own version of this runner using the Fat Eighth bundles (8pack for $30.50). I used starched cheese cloth as a stabilizer/foundation which we also have by the metre or Fat Quarter.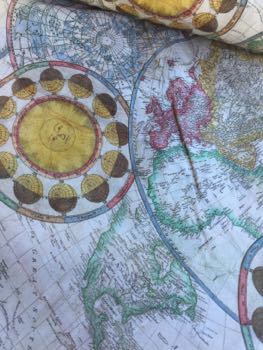 If you are looking for something different by way of a backing fabric this one is really cool and would look fabulous on the back of a guy's quilt or for someone like my daughter who has a thing about maps!
I am pleased to be able to tell you that the Cottage Garden Threads Field Journal project has kicked off again. I have a couple of spare places available if you would you like to start from Block 1, first in first served! Give us a ring at the shop for more details.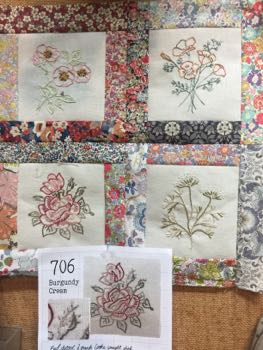 Don't forget next Saturday the 27th will be our Woolly Stitcher's Day. You are welcome to join us for a day of Wool applique - more details on the class page of the website.
On to the recipe...this one is a great "use everything in the fridge" type of dish to feed the family. It can also be made ahead of time and transferred from fridge to oven when you need to bake it.
Cheese Mushroom and Vegetable Pie
3 rashers of bacon, chopped
440 g mushrooms, sliced
1 onion, chopped
2 capsicum, red and green, chopped
6 thick slices of bread (crusts removed)
125 g grated cheese
6 eggs
2 cups milk
1 tbsp mayonnaise
1 tsp Worchester sauce
1 tsp Dijon mustard
Preheat the oven to 180C. Cook the bacon in a large frying pan until crisp. Add a knob of butter to the pan and cook the mushrooms and vegetables for a further 5 minutes or until the mushrooms are soft.
Cut the bread to size and place half into the base of a medium size oven proof dish. Spoon over the filling and top with the rest of the bread slices and sprinkle with the grated cheese.
Place the eggs, milk, mayonnaise, mustard and Worcestershire sauce into a bowl and whisk to combine. Pour this egg mixture over the whole dish and bake for 50-60 minutes until golden and firm.
Happy stitching,
Rachel
Annie's Country Quilt Store
www.anniesquilts.co.nz