Newsletters
Annie's Ramblings 1st April 2021 - Happy Easter!
Hi there. Well the bunnies must be almost revving up the sleigh by now...or perhaps I am confusing two chocolate eating occasions? A very good friend of mine who is also "grandchildless" was contemplating hiding wine bottles instead of Easter eggs in the back yard this year. I am not seeing a flaw in the plan yet, but I may have to help her find them again!
Yes, I know it is not all about chocolate and wine at Easter, but along with remembering the religious significance of the long weekend, I think we should also take time to congratulate ourselves on surviving the last 12 months in a Covid world that none of us were prepared for in the slightest.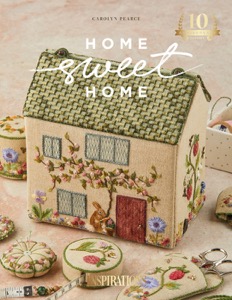 It has been another busy week in the shop as we get ready for our "Hand Stitchers Retreat" at Lake Rotoiti which I am really looking forward to. I will be taking the shop with me, so if you are in the area you are welcome to come and have a bit of retail therapy and check out what we are up to between 2-4.00 on Saturday afternoon (10th April) at The Alpine Lodge.
We have had some new Kaffe Fassett fabrics arrive this week and I have a very limited number of copies of the new Inspirations book "Home Sweet Home" by Caroline Pearce which is just gorgeous and is full of beautiful embroidery projects ($49.00). Be in quick for this one. I am told it will be possible to re-order, but the next shipment will be some months away.
Another product that I am quite excited about is the new "Rechargeable Daylight LED Halo Lamp with Magnifier". These are not cheap at $178.00, but the USB port does give you recharging options that we have not had before (no batteries ..yah!!!)
https://www.anniesquilts.co.nz/cms/shop-online/product/2530-daylight-rechargeable-lamp.html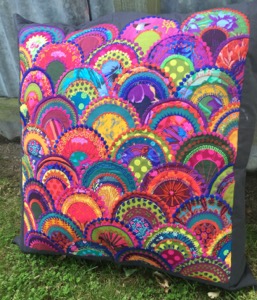 I have had a number of people asking when we will be running the next Clam-Shell Class, so I have set a new date for 22-23 May. This is a two day class geared towards learning and letting you make friends with your sewing machine and discovering the other 80% of the things that the machine can do – altering tensions, combining fancy stitches to make your own patterns, using memory functions...the sky is the limit! We also get to make clam shells that you can use for a cushion, a bag or a quilt if you get really enthused! The instructions/pattern is written for late model Bernina machines. It can be adapted for all makes of sewing machines, but you do need to be aware of this.
Now..onto the recipe and a reminder to turn your clocks back this weekend as we see an end to daylight saving time. Soup time?
Thai Curry Kumara Soup
1 tbsp oil
1 onion,chopped
2 tbsp red curry paste
1 tbsp grated fresh ginger
Fresh coriander to taste
1 kg orange kumara, peeled and cut into chunks
1 litre of vegetable stock
1 cup of water
1 tbsp soya sauce
1 tbsp lime juice
2 tsp palm sugar or brown sugar
¾ cup coconut yoghurt
Heat the oil in a large saucepan and cook the onion. Then stir in the curry paste, ginger and coriander. Cook until fragrant. Add in the kumara, stock and water and bring to the boil. Reduce the heat and cook until the kumara is tender. Let the soup stand for 10 minutes and then blend. Add in the rest of the ingredients and season to taste.
Ladle the soup into bowls and serve with crispy shallots and lime wedges. Yum!
If you are out for a drive or keen to pop into the shop over the long weekend, we will be open on Saturday and Monday of the Easter Weekend (9.30-4.30) and I look forward to seeing you then.
Happy stitching and have a great Easter weekend!
Rachel
Annie's Country Quilt Store
www.anniesquilts.co.nz