Newsletters
Annie's Ramblings - Fabric Specials and Cross Stitch
Hi there, another week has rolled around and before you know it you will be lining up for another long weekend, more school holidays and the start of the ski season....and the chilly winter days that go with that!
I have had a busy couple of weeks with classes and a trip to the Motueka as a merchant for their annual quilt show. I am looking forward to being back in that part of the world with the shop later in the year for the Nelson Embroiderers Guild Show in October.
This weekend we have the Clamshell Class and next Saturday will be our very popular Woolly Stitcher's Day (more details on the class page of the website).
Marelize who works in the shop on Monday and Friday has been very busy and productive with her cross stitch lately. Her work is beautiful and we are very lucky to have three of her framed pieces on display in the shop including this one from Blackbird Designs "Merrily, Merrily We Welcome Spring".
While we are grateful to be (for the most part) a happy healthy nation, the flow on effects of Covid in the rest of the world is still resulting in frustrating delays with stock arriving, and the best we can do is "Hurry up and wait!"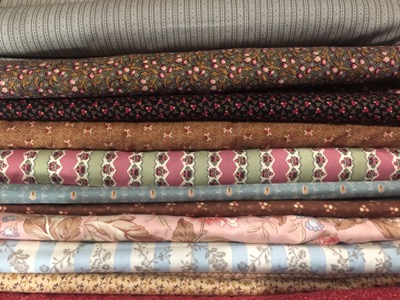 In the meantime, I have been busy tidying up the storeroom and clearing out fabric that is left over from kits and Block of the Months which is excess to requirements. This is your gain with these fabrics reduced to $20.00 per metre. These are mostly reproduction fabrics, which would be great for backgrounds and backings.
This is a little late, but the winner of last month's $50.00 voucher from Annie's is Tric Knowles from Christchurch.
Now...on to the recipe...this one is not an exact science, but it is tasty and you can adjust the quantities to suit
Vegetarian Pad Thai
1 packet of soft tofu
1 tsp tamarind paste
1 tsp palm sugar
2 tbsp soy sauce
Cabbage, Spring onions, Zucchini, Bean Sprouts, Garlic, Chilli
1 egg
Rice Noodles
Lime juice, Peanuts, Mint
Cut the tofu into cubes and marinade in a little soy sauce. Combine the rest of the soy, tamarind paste and palm sugar to make a sauce and set aside.
Fry the shredded cabbage and spring onions in a wok with a little oil and the chilli and garlic. Add the beaten egg and cook for 1 minuute. Add the cooked rice noodes, bean sprouts and zucchini.
Add a squeeze of lime juice to finish and garnish with fresh mint, coriander and chopped peanuts.
Happy stitching
Rachel
Annie's Country Quilt Store
www.anniesquilts.co.nz