Newsletters
Annie's Ramblings 24th June - Parcels Coming Through!
Hi there. Well, we are past the longest day, but I can't say I am feeling the love or the hint of spring just yet with snow to low levels forecast for early next week. Maybe they have got it wrong????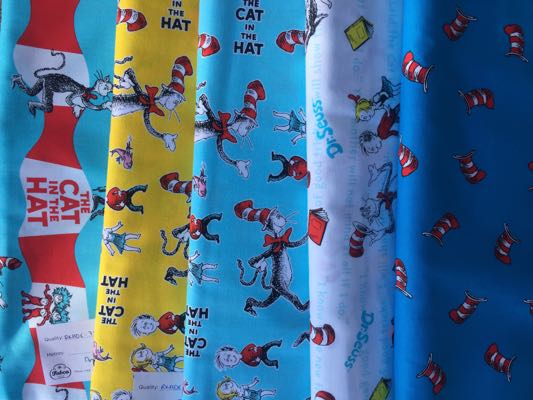 Today it was very exciting to have three very large boxes arrived (finally) with fabric, books, patterns and goodies that we seem to have been waiting forever for!
I love Dr Seuss and despite the PC brigade having a go at him recently, his books were always a firm favourite of my children encompassing fun, rhyme, and often important messages such as conservation and the need to look after the trees. These new fabrics will top up our selection of Seuss and are basis for a fun quilt for kids big and small.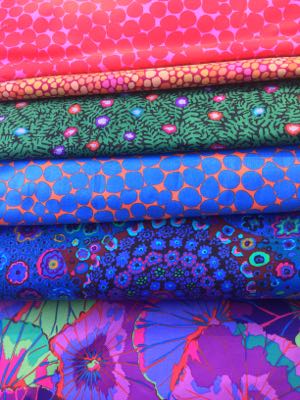 Also just arrived are these new fabrics with blasts of colour from Kaffe Fassett, including the two extra wide quilt backs at the bottom of this picture.
Of course the Kaffe fabrics also look fabulous when incorporated in wool applique work from designers such as Sue Spargo and Wendy Williams. Speaking of which our Woolly Stitcher's Day is scheduled for this Saturday. You are welcome to join us for an uninterrupted day of stitching and inspirtation 10-4.00, and just $20 for the whole day. Our regular classes on Tuesday night and Thursday mornings are on-going and just $8.50 per class (cheaper than going to the gym, with tea and coffee included!!)
If you are heading away for a few days (maybe in search of sunshine), why not take the opportunity to have your sewing machine or overlocker serviced? Our on-site fully qualified technicians service all makes and models of machines.
That's all from me today...keep sewing and carry on!
If you need a sweet treat at the end of a meal why not try this super quick recipe for a warm comfort food treat. You could also play around with the flavours, maybe add in some raspberry jam, Nutella or Baileys?
Cake in a Mug (Serves 1)
4 tbsp self-raising flour
2 tbsp sugar
2 tbsp cocoa
1 egg, beaten
3 tbsp cocoa
3 tbsp milk
½ tsp vanilla
2 tbsp chocolate chips
Combine the flour, sugar and cocoa in a mug. Pour in the egg, oil, milk, vanilla and chocolate chips and stir to combine. Microwave for 3 minutes.
Happy stitching
Rachel
Annie's Country Quilt Store
03 3076 277
www.anniesquilts.co.nz