Newsletters
Annie's Ramblings 13th August 2021
Hi there. Well...it is official. Now is a great time to have a fabulous winter holiday in New Zealand! We have just returned from a few days away visiting Mt Cook, Central Otago, South Westland and Lake Brunner enjoying some great food, wines, incredible scenery, and lots of walks and sunshine. So...what are you waiting for? Get out there and enjoy our tourist hot spots without the usual crowds...and
don't forget to call in and see us at Annie's on the way past of course!
Playing catch up when you get home is all part of the fun (?) and we have lots of parcels arrive including another shipment of Deborah Louie's excellent "Quilt Theory book", along with more copies of the very popular "A Fine Tradition" from Margaret Light ($59.90). Two more stunning publications from Inspirations have just landed as well, "Welcome Home" ($49.00) and "Willing Hands II" ($59.90).
https://www.anniesquilts.co.nz/cms/latest-products.html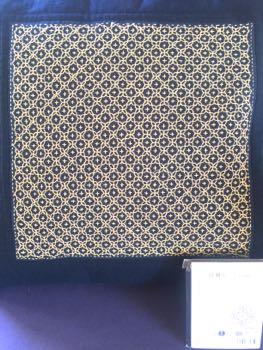 I also thought I would show you this cushion I finished recently using the preprinted Hana-Fuken Sampler ($20.00) and Buttercup coloured sashiko thread. This is time consuming, but simple to stitch following the lines and very effective. It would also work very well as a panel on a bag or needle case.
https://www.anniesquilts.co.nz/cms/latest-products.html
Now, on to the recipe. Our mandarin tree is loaded with fruit this year, so I thought I would share this one.
Mandarin Marmalade
1 kg whole mandarins
¼ c lemon juice
1 litre of water
5 c white sugar (approx)
Combine the whole mandarins (unpeeled), juice and water in a large saucepan and bring to the boil. Reduce the heat and simmer uncovered for about 45 minutes or until soft.
Strain the mandarins reserving the liquid. Chop them coarsely and discard any seeds. Combine the fruit pulp with the liquid and measure. You will need 1 cup of sugar for each cup of fruit.
Return the mixture to the pan and add in the sugar, stirring constantly over a high heat without boiling until the sugar dissolves. Boil without stirring (or burning!) for 30 minutes or until set.
Pour the hot marmalade into clean hot jars and seal.
This week's top tip from our Bernina technicians regarding overlockers....
*Always use two of the same size needles (when using two needles), and if one breaks – replace them both.
Of course, if you need more needles we have plenty for all types of sewing at Annie's.
Happy stitching
Rachel
Annie's Country Quilt Store
03 3076 277
www.anniesquilts.co.nz