Newsletters
Annie's Ramblings - 9th September 2021 - Yes we are open!
Hi there. Well...the shop doors are open and yes we do have elastic for mask making! As well as lots of beautiful fabrics, books, patterns, threads and sewing machines of course. Our technicians are also back on deck for all your sewing machine and overlocker servicing.
The "Spring Savings" sale on Bernette and selected Bernina sewing machines has also kicked off this month, and as we get used to our new level 2 restrictions we are looking forward to hosting our regular weekly classes and friendships groups back at Annie's next week.
If you would rather purchase a mask (or a shopping bag) rather than make them yourself, ladies from the Annie's Friendship group have been busy sewing up a storm to raise funds for Ashburton Hospice and Ranui House. These are $5.00 each and available from the shop or on the Annie's website.
This week I thought I would show you this very handy bag that I made recently. The "Cute as a Button Bag" comes with the frame and covered buttons and precut fabric, zip and pellon as part of the kit ($72.80). It is available in two colours – small floral Tilda fabrics or Japanese taupes. The best part about it is that the bag opens right out so you can see everything inside. It would make a great sewing bag, cosmetic or toilet bag.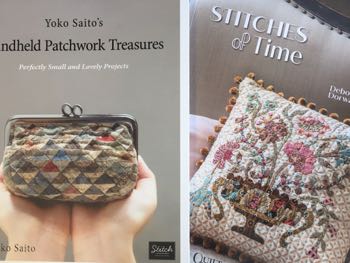 I am also excited about two new books that have just arrived in. The first is a Quiltmania publication full of beautiful quilts that I am can't wait to add to the to-do list "Stitches of Time" by Deborah Dorward ($89.00).
The other is the latest offering from well-known Japanese quilt master Yoko Sato "Handheld Patchwork Treasures" ($59.00). This book features lots of small projects, bags purses, boxes and pouches which are just beautiful.
https://www.anniesquilts.co.nz/cms/latest-products.html
Now, onto the recipe. This is a good "store cupboard" recipe to feed the troops which can easily be pimped up with the addition of some spicy sausage and extra vegetables such as chopped spinach, capsicum, fresh chilli or zucchini.
Boston Baked Beans
1 large onion, finely chopped
300 g finely chopped bacon
¼ golden syrup
1/3 c brown sugar
2 tbsp Dijon mustard
1 tbsp Worchester sauce
1 tbsp hot chilli sauce
1 tin crushed tomatoes
1 tin each cannellini beans, borlotti beans, butter beans, rinsed and drained
3 c chicken stock
Salt and pepper to taste
Brown the onions and bacon in a pan with a dash of oil. Place the onions and bacon with the remaining ingredients in a slow cooker on low for about 9 hours. Serve on toast, with eggs or as a side dish with some fresh herbs to garnish.
Happy stitching
Rachel
Annie's Country Quilt Store
03 3076 277