Newsletters
Annie's Ramblings 7th October 2021 - Grench General, Cross Stitch and Cakes!
Hi there. The year really seems to be whizzing by! Every year I am surprised to see Christmas cakes, mince pies, puddings and candy canes appearing in the supermarkets in October. It always seems too early!
It is a very busy month for us with a trip north to see family, the Christchurch Quilters Exhibition at Papanui High School next Wednesday-Sunday where I will be a merchant, our daughter's wedding and my husband's birthday at the end of the month.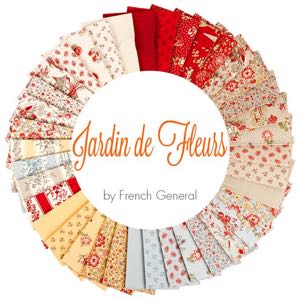 Meanwhile...in the shop the fabric is still arriving with the new French General range Jardin de Fleurs finally making to our doors. This range features pretty flower prints with a bit more colour than we usually see from this designer with pinks and blues as well as some of the traditional reds for a gorgeous spring/summer look. We have plenty of charm squares and jelly rolls available too.
As much as I am completely over talking about, thinking about and living with the threat and the reality of Covid, it seems that mask wearing will be the norm for quite some time yet.
However it is lovely to see how creative people can be with a face covering, including the one I saw last week made from an old embroidered tray cloth.
If you are still in the mask making business, just arrived in are these beaded elastic drawstrings that make your masks adjustable. Available in black and white, they are $12.50 for a pack of 20.
https://www.anniesquilts.co.nz/cms/latest-products.html
The other thing I am excited to tell you about is that I am starting up a new "Crazy Cross Stitchers" group at Annie's meeting for three hours of uninterrupted stitching, chat and nibbles on Friday night from 5-8 pm once a month. The first one will be Friday 12th of November, so mark this one on the calendar.
Before I forget, the winner of the $50.00 voucher from Annie's for September is Catherine Abbott from Christchurch. Congratulations Catherine your voucher is waiting for you at the shop.
Now...on to the recipe....just in case you need to get into the Christmas spirit.
Mini Christmas Cakes (makes 6)
¼ c sugar
¼ c water
75 g water
1 cup mixed dried fruit
¼ tsp almond essence
1 egg, beaten
½ c flour
½ tsp baking powder
Place sugar, water, butter and fruit in saucepan and bring to the boil. Remove and leave to cool.
Stir in the egg, essence, and sifted dry ingredients. Mix until combined and place into 6 greased and lined muffin tins. Bake at 140 C for about 4o minutes or until golden and cooked through.
Happy stitching
Rachel