Newsletters
Annie's Ramblings 4th November 2021 - Hark the onset of the silly season!
Hi there. Well, now that we are into November I am sure I can hear the murmur of Christmas carols and sleigh bells, and those really helpful souls who delight in telling us just how many days it is until the guy in the red suit turns up for another round of cheerful Ho, Ho-ing!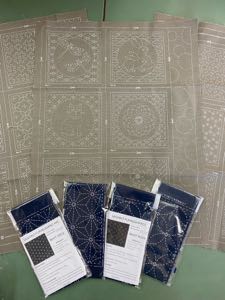 However...there is much to do before then! This Saturday we have our Woolly Stitchers' Day and next Friday (Christchurch Show Day) will be our first Cross Stitch Gathering from 5-8. Yes, the shop will be open on Friday!
Anyway, I am pleased to say we now have more stock of the very popular draw string mask elastic. The elastic has a little bead on the end so that you can adjust the mask for a more personal fit. We have black and white as well as a limited number of purple, royal, green, grey, red and navy all in packs of 20 of each colour. (These extra colours will not be on the website, but let us know your preferences and we will do our best.)
Also just arrived in these stunning new sashiko panels. This traditional Japanese needle work is very relaxing and suitable for stitchers of all ages and abilities.
https://www.anniesquilts.co.nz/cms/shop-online/category/39-sashiko.html
Speaking of Christmas gifts, these sewing boxes are just the thing to store your cottons, threads, needles and other necessaries. These are well make with a lift out compartment and carry handle for just $59.00.
https://www.anniesquilts.co.nz/cms/latest-products.html
Before I forget the winner of the $50.00 voucher from Annie's is Carol Suddaby from Brightwater. Congratulations Carol, your voucher is waiting for you.
Now, on to the recipe...with fresh snow on the hills it is a little hard to believe that it is summer time quite yet, but this recipe is a good lunch dish for when tomatoes become more plentiful.
Stuffed Chorizo and Fetta Tomatoes
8 ripe tomatoes
½ cup couscous
20 g butter
1 chorizo sausage
2 cloves garlic
70 g crumbly feta
¼ c basil leaves or fresh herbs of your choice
Preheat the oven to 170C. Cut the tops off the tomatoes and scoop out the pulp from the inside, chop up and set aside.
Place the butter, diced chorizo and the finely chopped garlic in a medium size pot. When lightly browned add in the couscous and ½ c of boiling water. Cover the pot with a lid and take off the heat and leave to stand for 5 minutes to let the liquid absorb.
Fluff up the couscous and add in the tomato pulp, fresh herbs, feta, salt and pepper.
Spoon the mixture into the tomato shells, putting the tops back in place. Bake on a tray for 25-30 minutes until they soften. Serve with crusty bread and a fresh salad.
That is all from me this week, but if you are looking for an outing why not check out the Hakatere Ceramics & Pottery Exhibition is on from 6-14 November at the Masonic Centre on Havelock Street, Ashburton.....and of course while you are out and about call in and see us at Annie's!