Newsletters
Annie's Ramblings 18th November 2021 - BERNINA SALE NOW ON!
Hi there. It is Bernina sale time again, with the lead up to Christmas being the major event on the Bernina calendar there are some big savings for you!
At Annie's we have good stocks of sewing machines from as little as $199.00. At the other end of the scale I also have a super saving for you which is exclusive to Annie's on the Bernina 770 with $1500 off the RRP (Be in quick for this one!) This is an amazing machine which makes any kind of sewing a pleasure. Book in for a test drive today!!
Don't forget there is also 20% off Bernina and Bernette accessories feet, trolley bags, machine covers and basically anything you can find in the Bernina accessories book. (**Does not include needles, bobbins and bobbin cases).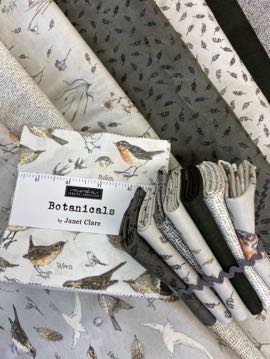 In terms of what is new in this week...there is a lovely new range of fabrics from Janet Clare called "Botanicals" featuring birds, flowers, plants and some great blenders. Charm square packs are also available ($25.00), as well as Fat 1/8th packs ($28.00) and metreage ($32.00).
https://www.anniesquilts.co.nz/cms/latest-products.html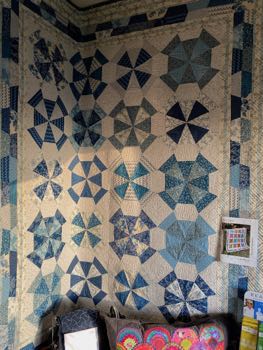 I also thought I would show you this stunning quilt that we have on loan in the shop at the moment from Nicky Bradley. This will definitely appeal to all those lovers of timeless blue fabrics (Laundry Basket), but it would look equally as stunning in brights or Japanese taupes..or whatever takes your fancy. The pattern "In a Spin" is from Lynne Wilson Designs and is $25.00, but we can also put together a kit for you if you wish.
Our last Woolly Stitchers Day for the year will be Saturday 27 November and you are more than welcome to join us.
Our first Friday Crazy Cross Stitchers group last week was really good, and very inspiring to see what everyone is working on. If you would like to join us the next session is Friday the 10th of December from 5-8pm. Bring something to eat, something to drink and something to stitch – and it is free!
Now..on to the recipe. This one is great for those people with health issues or allegies as they contain no egg, gluten or sugar and even without all that are pretty tasty! It sounds unlikely, but it is the flax and chia seeds that hold everything together when they are soaked.
Five Seed Crackers
1 cup flax seeds
½ c sesame seeds
½ c pumpkin seeds
½ c sunflower seeds
½ c finely chopped hazelnuts or almonds
3 tbsp chia seeds
1-2 tsp ground cumin (optional)
1 tsp sea salt
1 c water
Combine the water and flax seeds in a bowl and let stand for 1-2 hours. Mix in the rest of the ingredients and let it sit for another hour or longer.
Spread the mixture into a baking tray and bake at 150C for about 35 mins. Bake for a further 15-30 mins at 110C or until crisp.
Store in an airtight container and serve with cheese, dips or pesto. They look great as part of a platter.
By the way, if you are looking for something to do on Sunday's and would love to work in a quilt shop please let me know as I am looking for another part time staff member.
However, if you are looking for something to do this weekend to get you into the spirit of the season, the St Peter's Parish in Temuka is organising Christmas Trail of local homes that are "dressed to impress" this Friday and Saturday(19-20 November) from 10-4. For information and tickets contact Bev at 027 499 5710.
Happy stitching
Rachel
Annie's Country Quilt Store
03 3076 277