Newsletters
Annie's Ramblings - 3rd December 2021
Hi there. You know there are some days when I really think the whole world has gone made, and then I have to remind myself that both the TV and social media have an off switch, and it is time to pick up my stitching!!
Despite the on going uncertainties we are going ahead with planning our retreats and classes for next year and we will be a merchant at the National Quilt Symposium in Wellington in October all going well...after all we have got to have things to look forward to ...right?
There are also some stunning fabrics coming through early next year including Kindred Sketches from Kathy Doughty, Boheur de Jour from French General, Rose from Jo Morton, Peter Rabbit, more Dutch Heritage from Petra Prins and Welcome Home from Anna Maria Horner to name just a few!
As well as the metreage of the Welcome Home range this big, bright and beautiful quilt from Anna Maria is available as a kit (pre-orders only until 17 December) with expected delivery for July next year. Annie's price for the kit will be $499.00. This is a one time deal as patterns for this quilt will not be sold separately.
https://www.anniesquilts.co.nz/cms/shop-online/product/2677-anna-maria-s-welcome-home-kit.html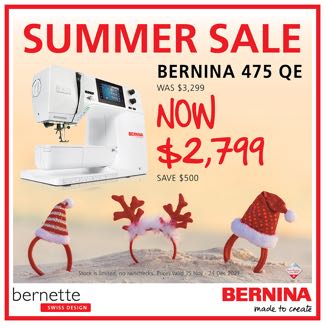 The Bernina Sale at Annie's continues, and if you are looking for a new sewing machine the B475 is a great mid range machine at a great price ($2799.00) a saving of $500.00 on the regular price. Call into the shop for a demo or you can check it out on line at www.bernina.co.nz
This machine comes with the full Bernina guarantee and of course the back up of our own very experienced service team here at Annie's. Robbie and John are also able to service and repair all other makes and models of sewing machines and overlockers, usually with a pretty quick turn around given the availability of parts. (They respond really well to the promise of a cream bun!!!)
https://www.anniesquilts.co.nz/cms/shop-online/product/2678-bernina-475-qe.html
Before I forget, the winner of the $50.00 voucher from Annie's is Debbie Macdonald of Ashburton.
Congratulations Debbie your voucher is waiting for you.
This week's recipe is a good one for using up the last of the pumpkin in the store cupboard and making the most of the golden kumara which seem to be plentiful at the moment to create a tasty and filling soup...some for lunch and some for the freezer!
Kumara, Pumpkin and Peanut Soup
1 large onion
1 clove of garlic
2 tsp oil
½ tsp curry powder
½ tsp ground coriander
A sprinkle of chilli flakes
250 g orange kumara
250 g seeded and peeled pumpkin
4 c of chicken or vegetable stock
2 T crunchy peanut butter
Salt and pepper
Heat the chopped onion and garlic in a large pot with the oil. Stir until the onion is transparent and then add in the spices and cook for another minute.
Add in the chopped vegetables and the stock and cook on a medium heat until the pumpkin and kumara are tender. Add the peanut butter and season to taste. Puree with a stick blender or food processor to the desired consistency.
Happy stitching
Rachel
Annie's Country Quilt Store
03 3076 277