Newsletters
Annie's Ramblings 10th December 2021 - How many sleeps until Christmas?
Hi there. Another busy week, and another week closer to Christmas, school holiday time and celebrating family and the milestones of the year.
As sewers, embroiderers, patchworkers and all round creative people, I think we are very lucky to have an interest/passion. There is always another project out there!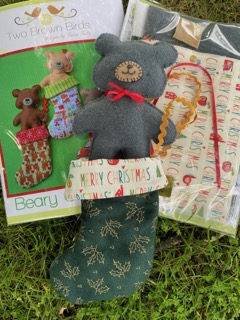 I have been collecting up old plates and broken china for quite some time now and this week made a start on my first mosaic project. It is not finished yet, but I will put it on the Annie's Facebook page when it is done. (If you need inspiration for mosaic work, a visit to "The Giant's House" in Akaroa is an absolute must!)
As Christmas is fast approaching, I thought I would show you this cute little project that won't take too long to make and would bring a smile to the face of those little people in your life, especially if you fill the stocking with some treats! Beary Christmas is a kit ($16.50) using the fabrics as pictured. You will just need to add a little bit of stuffing and some DMC thread.
Now, if all you want for Christmas is a great sewing chair with excellent lumbar support, gas lift and a space to hide your treasures under the seat, the good news is that I have more Horn Chairs arriving in the next day or so. These are $299.00 and come in two flat boxes and are very easy to assemble, so they can be shipped out, or collected from Annie's.
If you need to steer your nearest and dearest in the right direction regarding the ideal Christmas gift, don't forget that we also have gift vouchers.
The second of our monthly Friday night Cross Stitch group is on tonight from 5-8 at the shop, and you are very welcome to join us. Bring something to eat, something to drink and something to stitch..and it is free!
This week's recipe is from and old recipe book by Julie Le Clerk that I found in a charity shop. These spicy iced ginger cakes originate from France and include marmalade to give a citrus zing. I made them using a large muffin tin, but they would also look really cute cooked in a mini muffin pans or as little loaves.
Nonettes
125 g brown sugar (tightly packed)
2/3 c milk
¼ orange marmalade
¼ golden syrup
1 c plus 2 tbsp of self-raising flour
1 tsp baking soda
1 T ground ginger
1 t cinnamon
½ ground nutmeg
1 egg
Preheat the oven to 160C (fan bake). Prepare a large 12 hole muffin tin, greasing well.
Place the butter, sugar, milk, marmalade and golden syrup in a large pot. Melt gently over medium heat stirring occasionally. Cool.
Place flour, soda and spices in a large bowl. Mix together and then make a well in the centre. Pour in the beaten egg and the liquids to make a smooth batter. Spoon into the prepared tins and bake for about 30 minutes or until a skewer comes out clean.
Tip the cakes out onto a wire rack, and when cool ice the bottoms with a thin lemon icing using 1 ½ cups of icing sugar, the juice of a lemon and enough boiling water to make a thin runny consistency. Drizzle over the cakes.
Happy stitching
Rachel