Newsletters
Annie's Ramblings 17th December 2021 - it's almost Christmas!
Hi there! With less than a week to go until Christmas it is all go with the last days of the Bernina Sale, and a mad scramble to get everything we need from the wholesalers before they close down over the holiday break.
Annie's will be closed for the statutory holidays over Christmas and New Year, but on-line shopping is available all the time – so let me know what you need and as long we have it in stock we will get it out to you quick smart.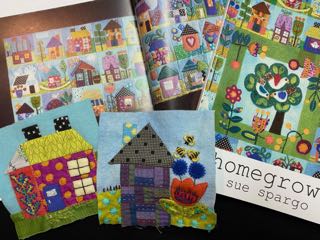 The amount of rain that we have had in the last week (and continue to have) is getting to the point where I am contemplating putting my quilts on hold and building an ark! Everything is very soggy, and it certainly doesn't feel like mid December!
Over the past few months I have been working on the little houses from Sue Spargo's "Home Grown" book with the idea of doing these as a Block of the Month working towards 27 houses (a small village) for the wall hanging that is featured in the book. If you wish you could go on and complete the centre medallion and borders to complete the whole quilt, but this is an extra and not included in the program. Each block is $12.50 and we are sending out 2 each month. I have a few places left, but be quick as places are very limited.
Lots of parcels have arrived including this gorgeous range from Betsy Chutchin called "Maria's Sky 1840-1860". Metreage, fat quarters and charm squares are available. The long awaited French General Linen panels have finally arrived in with pre-orders being sent out over the next few days. If you are after a relaxing stitching project for the holidays you can still order these on the website.
Horn Chairs, sewing machines, DMC and Sue Spargo, threads and lots more beautiful fabrics including a couple of delightful "Horton Kindness" fabric from Dr Suess Enterprises which teamed up with some spots, stripes and blenders would make a really fun kids quilt. I am going to have to bring in the sky hooks to fit everything in shortly..but as you know, when there is an opportunity to buy stunning "I just can't live without it" type of fabric, you just have to get it when you see it, as it doesn't usually come around again!
I must apologise for my tardiness with the ingredients for last week's recipe for the Nonettes. There was supposed to be 125 g of butter listed. I re-posted the full recipe on the Annie's Facebook page, but I am sorry for the confusion. This week I thought I would share a simple recipe with just a few ingredients which might be safer! A special breakfast is part of our family tradition on Christmas morning - why not try these hotcakes for a delicious start to the day served with fresh berries and cream or ice cream and your favourite sauce, berry compote or fruit curd.
Hotcakes (serves 4)
1 c self raising flour
1/4 caster sugar
3 eggs separated
200 g ricotta
3/4 c milk
1/2 tsp lemon zest
Plus a little butter for the pan
Separate the eggs and place the yolks in a bowl with the milk, ricotta and lemon zest. Beat until smooth and then add in the dry ingredients and mix until just combined. Beat the egg whites in a separate bowl until soft peaks form. Then fold these through the batter. Heat a large fry pan and grease with butter. Drop spoonfuls of the mixture into the pan and cook 2-3 minutes on each side until golden. Serve with you favourite accompaniments and enjoy!
Happy stitching,
Rachel
Annie's Country Quilt Store
(03) 3076 277
027 800 55 44