Newsletters
Annie's Ramblings 23th December 2021 - Almost time to put your feet up and stitch!
Hi there and a very Merry Christmas to you all! Hopefully by now you are almost ready to sit down and stitch with the housework and shopping done, and the fridge and the pantry full of goodies. (Don't forget to check the gas bottle for the barbeque!) All we need now is for the weather man to play his part.
We are just in the last couple of days of the Bernina sale, so if you think of anything you need, like a trolley bag, machine feet, accessory case, ruler kit it is a good time to take advantage of the 20% off. If it is not in stock, as long as it is ordered before closing time on Christmas Eve the discount will still apply. Talk to us about the savings on sewing machines and overlockers too.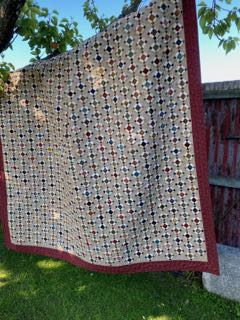 This week I thought I would show you this scrappy quilt that I have just finished using a pattern from American designer Pam Buda. The pattern, "Circa 1880 Nine Patch" is a great way to use up the smaller pieces of fabrics in your stash (1" squares), and with 6,268 pieces in the quilt it will keep you out of mischief for a day or two! The Essex Linen I have used in the quilt is still on the wharf somewhere near San Francisco and has been for the last three months. However, I am sure it will turn up eventually and in the meantime I am happy to take pre-orders, and we also have mixed charm square packs of the reproduction fabrics. The patterns are available now ($26.00).
Our classes will start again next year with the first cab off the rank being our Friday Cross Stitch Gathering on January 14th. Bring something to eat, something to drink and something to stitch...and it is free. Everyone welcome, so mark it on your calendar!
At the end of February (26th,27th) we are holding another two day Clam Shell Class using Australian designer Deborah Louie's fabulous book. This is a great way to get to know your machine and use all those fancy stitches on your machine and learn a few tricks along the way to making your cushion, table runner or quilt. More details on the website.
This weeks recipe is something tasty and a little different to go with your Christmas ham.
Roast Mustard Fruits
500 g dried fruits such as figs, prunes, apricots, cherries
3 firm ripe pears
½ fresh pineapple
1 tin of lycees in syrup
2 Tbsp mustard seeds
½ c brown sugar
¾ c dry white wine
½ c white wine vinegar
1 ½ tsp dry mustard
1 c water
Peel and quarter the pears, prepare the pineapple and combine with the dried fruits, sugar, mustards, wine, water and vinegar in a large bowl. Mix well and turn onto a foil lined tray. Bake in a moderate oven or hooded barbeque for about 45 minutes. Can be served hot or cold with your Christmas meats.
That is all from me for this year, as we look forward to a new normal for 2022. A huge "Thank you" to you all for your support, your custom and your friendship.
Happy stitching and have a fabulous holiday break. Annie's will be closed for the statutory holidays.