Newsletters
Annie's Ramblings - Classes start next week!
Hi there. Well....we have ticked off the first month of the year already with the end of January signally the end of the summer break and the need to kick back into the regular routines again. In the meantime, I hope you make the most of the Waitangi holiday weekend.
The shop will be closed on Monday, as we enjoy some family time. Our youngest daughter and her husband are moving back to Ashburton to live, with Rosie joining the team at Annie's which we are all looking forward to.
bajhDJGHVJDSH
Our regular classes will restart next week with Tuesday night (7.00-9.30) and Thursday morning fortnightly (10.00-12.30). I know it is not ideal, but masks will need to be worn in the classroom.
Next Friday night the 11th will also be our monthly Cross Stitch night, with Wool Class falling on the 19th of February. More details are on the website or you are welcome to give us a call if you have any questions.
The big "O" in the room is the pandemic, and as this is a constantly changing situation we will put any changes on our Facebook page, and of course you are welcome to call the shop to check what is happening.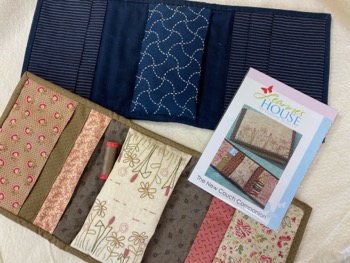 This week I thought I would show you the new sample I have just finished for the Armchair caddie. This is a Rosalie Quinlan pattern ($23.00) that has been around for a while. Rosie completed the stitchery for me and it didn't take long to put the rest of it together. Also pictured is the Sashiko version that I made a wee while ago. Any respectable chair would be happy to have one of these on their arm!
The Quiltmania Simply Vintage and Quiltmania magazines are both in stock now and we have plenty of novelty prints and adjustable mask elastics (and regular elastic) if you are making masks for kids and grand kids to wear to school.
I will be at the Ashburton Embroiderers Guild workday at the Senior Centre next Friday (11th) as the guest merchant, and if you are in town with a few minutes to spare it would also be a good chance to check out their exhibition at the Ashburton Art Gallery which is on from 5-27 February
On to the recipe...something to have with a cuppa!
Apricot Crisps
100 g butter
½ c sugar
1 tbsp golden syrup
1 tbsp milk
2 c flour
¾ tsp baking soda
Pinch of salt
½ c finely chopped dried apricots
Melt the butter, sugar and golden syrup in a large saucepan. Remove from the heat, cool and add in the milk, apricots and sifted dry ingredients. Mix well and roll into balls. Place on an oven tray and flatten with a fork. Bake at 180C for about 15-20 minutes or until golden.
Before I forget, the winner of the $50.00 voucher from Annie's is Liz Butson from Cromwell. Congratulations Liz, your voucher is here waiting for you.
Have a great weekend and happy stitching,
Rachel
Annie's Country Quilt Store
03 3076 277