Newsletters
Annies Ramblings - 23rd March 2022
Hi there. With rising fuel and food prices and a pandemic that keeps on giving, it is difficult to see the positives sometimes. However you just need to turn on the news and see the devastation and loss that the people of Ukraine are facing and realise that our problems here don't even rate on the hardship scale. If I could send them a tank, I would!
Anyway...onto the good news. We have more new fabric that has arrived including the new French General range "La Vie Boheme" featuring lots of small soft prints and some very pretty blues. We have charm squares, jelly rolls and metreage including a couple of the beautiful printed linens from the range. The French General always come up with timeless french inspired designs that are real classics, and this one doesn't disappoint.
We also have some charm squares in the latest "Best of Morris" designs from Barbara Brackman for Moda. These are $28.00 each and are great for small quilts, bags, table runners, cushions or simply as a way of adding to your stash!
If you are keen to stock up on some of your basics such as quilters muslin, violene and stabilisers, Olfa cutting blades and mats and New Zealand fabric, now is a good time as we have been notified of price increases that will kick in from April 1. Write the shopping list and let me know what you need!
We have two retreats coming up which are both full up, but keep an eye out for the Rotoiti retreat as well as our annual pilgrimage to Akaroa for 2023. We are busy making samples and cutting kits for these events as well as the Motueka Quilting Connection Show May (20-22) and National Symposium in Wellington in October.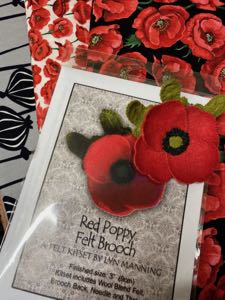 Anzac Day is also coming up on the calendar and if you are after some poppy fabric or you wish to make your own poppy brooch we can help you out there too. The Red Felt Poppy Brooch kit is on special for $14.00 (usually $17.00) and includes threads, felt and everything you need.
https://www.anniesquilts.co.nz/cms/shop-online/product/1162-red-poppy-felt-brooch-kit.html
This Saturday (26th) we have our monthly Woolly Stitcher's Day (10-4), and our next Cross Stitch session will be Friday (1st April from 5-8 pm) More details on the class page of the website.
Next week I am hoping to be able to show you some of the new cross stitch patterns which are due to arrive any day after their release at Market in Nashville...stay tuned!
Now, onto the recipe...this is a quick easy week night dinner that you can put together in a hurry before you rush out the door again.
Vietmanese Chicken Salad
Dressing:
2 T soya sauce
3 T lemon or lime juice
1 T caster sugar
1 finely chopped chilli
1 T freshly chopped coriander and mint
Salad:
500 g cooked chicken
½ medium size cabbage
3 spring onions
½ small cucumber
1 carrot
½ roasted peanuts
Place all the ingredients for the dressing in a small container and shake to dissolve the sugar.
Slice the chicken and chop the vegetables, peanuts and herbs finely and combine in a large bowl. When ready to eat combine with the dressing and serve.
Take care and happy stitching,
Rachel
Annie's Country Quilt Store
03 3076 277