Newsletters
Annie's Ramblings 28th April 2022
Hi there. Its Bernina Autumn Sale time at Annie's, and with $1000 off the new B770 machine it is a great time to buy. We have good stocks of the new B570 Quilters Edition which comes with a free trolley bag valued at $325.00. There are also some good savings on the Bernette machines and of course 20% of machine feet and accessories until 22 May. You can check the machines out and compare models at www.bernina.co.nz and www.bernette.com.
Now that we have Easter, Anzac Day and most of the school holidays out of the way, it well and truly seems like we are on the way towards winter…..Roll on Mothers's Day! I am not a fan of the dark cold evenings…but then again, living in a place where there is no noticeable change of seasons would be a bit weird also. I guess we can't have spring without the winter.
Speaking of spring and Easter and bunnies, we have just received a big shipment of long awaited Peter Rabbit fabric in pinks, blues and creams featuring all your favourite story book characters from Beatrix Potter. These are $34.00 pm and available by the metre or in Fat Quarter Bundles of five different fabrics ($42.50), perfect for small quilts, trimming cot quilts and blankets. If you have a few minutes to spare and looking for something to entertain the kids or the grandkids check out www.peterrabbit.com. There are lots of colouring in, gardening and cooking projects to keep everyone busy as well as a template for some cute bunny ears.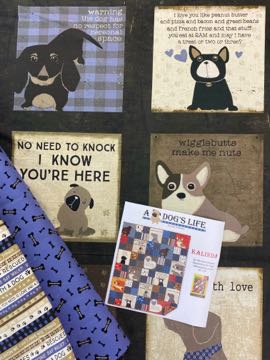 If you are a dog lover…this is the fabric for you! Just reading the sayings is enough to make you chuckle, (although I think I could add a few more for my fur grandbaby – like "Give me some more attention or I will eat your new running shoes!!!) The panel is ($22.00) co-ordinating fabrics ($33.00) which would also make great bandanas, dog coats or blankets.
We have had lots of new fabric arrive in lately, including some new William Morris fat quarters and some great novelty prints including typewriters, dinosaurs and Superman! (If you have a wanna be superman in the family, they definitely need a mask in this fabric.) J If you haven't been in the shop for a while, come and check it out.
Coming up on the calendar…this Saturday is Woolly Stitcher's Day, and our next Friday night Cross Stitch Evening will be 13 May (5-8pm). More details on the class page of the Annie's website. I am also looking forward to catching up with all those "top of the South" quilters and patchworkers as I will be a merchant at the Motueka Quilt Connection show in the Recreation Centre May 20-22 (10am-4pm).
Now, on to the recipe. These mini loaves are quicky and tasty, and if you don't have mini loaf ones, muffin tins will work just fine.
Date and Pineapple Mini Loaves
440 g crushed pineapple
2 c chopped dates
½ c sugar
125 g butter
2 eggs
2 c self raising flour
Preheat the oven to 180C and lightly grease the tins. Drain the pineapple and reserve the syrup. Add water to the syrup to make it measure 1 cup of liquid.
Place the pineapple, dates, syrup and water, sugar and butter into a saucepan and bring to the boil. Simmer for 2-3 minutes and then set aside to cool.
Whisk the eggs and add them into the pineapple mixture along with the flour. Spoon into the loaf/muffin tins and bake for 20-25 mins or until a skewer inserted into the middle of the loaves comes out clean.
Happy stitching
Rachel