Newsletters
Annie's Ramblings 13th May 2022 - Some great specials on fabric!!
Hi there. I have been thinking about the things that scare me (apart from moving to Russia or the Ukraine) just going the supermarket or the petrol station seem to be fairly high on the list these days! I never thought I would see the day when you could buy 3 fat quarters or even a metre of fabric (see below) for the price of a block of cheese!
However it does make the idea sitting at home making a quilt, drinking tea and eating soup (or sultana loaf) seem like a really attractive idea! Don't worry if you can't make the journey to the shop to get your supplies we do mail order!!!
I do appreciate that budgets are stretched at the moment, but as sewing, patchwork and generally anything to do with fabric is "what we do" I have some great specials for you. These fabrics pictured left are all $20.00 per metre, and even if they are not your first choice for the front of your quilt, they make great backings too. Once they are gone, they are gone (minimum half metre cut)...so be in quick!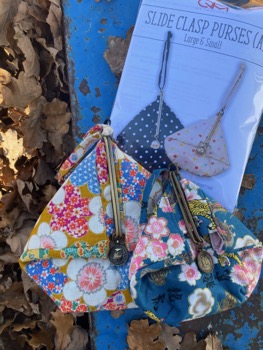 If you are thinking about hand made Christmas gifts this year, it is never too early to start. These little Japanese style purses would make a really nice (and practical present). The "Slide Clasp Purses" are available as a kit ($59.00) which includes everything you need to make a large and a small purse in the fabrics pictured in my samples. The larger purse could also be used as a stitching bag or when opened out - a scrap collector bag, which packs away easily when you are done.
Don't forget that with good stocks on hand at present, our Bernina/Bernette sale continues for another week. We have sewing machines from just $199.00 with 20% off feet, trolley bags and accessories.
https://www.anniesquilts.co.nz/cms/latest-products.html
I am also excited to tell you about a upcoming event with Aussie Quick Quilt as we will be hosting two sessions with Leanne and Ralf on Thursday 25th August. They will be demonstrating their safety rulers and quick cut strip tools in with plenty of stories of their travels, free give aways and promotional pricing on these amazing Australian made products.
Leanne and Ralf have a huge following on YouTube and we are lucky they have included Annie's in their New Zealand visit. Tickets will be $5.00 each available from Annie's CQS now.
https://www.youtube.com/results?search_query=aussie+quick+quilt
I was having a tidy up and rediscovered this very handy loaf recipe which was passed on to me from Joan Buckland who has been coming to our Wednesday stitching group for many years. The recipe has been well tried and tested over the years and doesn't need any butter!
Joan's Sultana Loaf
1 C Raw sugar
1 C Sultanas
1 C Self Raising Flour
1 C Bran flakes
1 C Milk
Mix all the ingredients together and place in a loaf tin. Bake at 150C for about 1 ½ hours or until a skewer inserted into the loaf comes out clean.
Have a great weekend and happy stitching,
Rachel