Newsletters
Annie's Ramblings 17th June 2022 - Mark these on your Calendar !
Hi there. With everything from snow to incredible thunderstorm, heavy rain, frost and mini tornadoes in different parts of the country lately, I hope you are managing to navigate your way through smorgasbord of winter weather events!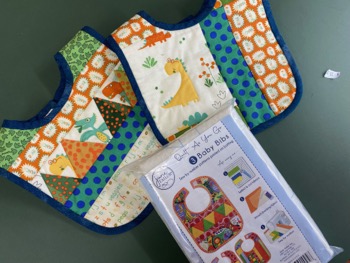 We were lucky enough to have a couple of days off last week in Kyeburn which is not far from Naseby (Central Otago). Based in a tiny house on the back of a sheep station the scenery was amazing. If you have seen the movie "The Power of the Dog" you will appreciate the kind of views we enjoyed. I did take my sketch book as well as my stitching and it was great to recharge the batteries....and escape before the snow arrived!
This week I have another cross stitch to show you that I have recently finished. This one is called "Sweet Bird Sampler" by Threadwork Primitives and is available was a kit with linen and Weeks Dye Works threads for $55.20.
Another small fun project which is great for using up some of your stash fabrics are these "Quilt As You Go" Baby Bibs. This pack ($26.00) includes your instructions and pre-printed batting to make three bibs using foundation piecing techniques.
We have a few things coming up over the next couple of months, so now is the time to mark them on your calendar. Don't forget our regular weekly and fortnightly patchwork classes are still running Tuesday nights and Thursday mornings and everyone is welcome.
Woolly Stitcher's Day – Saturday 25th July 10am-4.00pm
Friday Night Cross Stitch – 8th July 5pm-8pm (This is a free get together for like-minded stitchers once a month)
Canterbury Patchwork and Quilting Guild Quilt Show – 20-24th July Papanui High School
Bernina Roadshow is coming to Annie's - July 30th 9.30am-4.30pm. This is a free event giving you a chance to talk to the experts, try the latest Bernina sewing and embroidery machines, overlockers and a long arm quilting machine.
Aussie Quick Quilts Demonstrations – 25th August 10am-12pm or 1pm-3pm
Annie's is proud to be hosting Aussie Quick Quilts on their New Zealand tour. Leanne & Ralf will be giving demontrations on their safety rulers and quick cut strip tools with free give aways and promotional pricing on their Austrailian made products, as well as lots of hints tips and great stories! Tickets are $5.00 each, available now from Annies CQS, be in quick as there are limited spaces available.
Check them out on Youtube - https://www.youtube.com/watch?v=JQmYKQZbxn8
Now, onto the recipe. This is a quick and easy sweet treat that my Mum used to make and we called them Bumblebees. If you are not a fan of dates, you could substitute any other kind of dried fruit and they will be just as good!
Bumblebees
1 tin of condensed milk
1 c dried dates
1 cup of chopped walnuts
Desiccated coconut
Mix the first three ingredients together and shape into balls. Roll in coconut and bake at 180 C for 10-15 minutes or until golden.
Have a excellent weekend and happy stitching,
Rachel
Annie's Country Quilt Store
03 3076 277