Newsletters
Annies Ramblings - New Kaffe Fassett special edition Bernina sewing machines
Hi there. This week I am really excited to tell you about the new Kaffe Fassett special edition Bernina sewing machines that were released in New Zealand on Wednesday night. These are really cool and beyond the colourful machine exterior are loads of new build in stitches and embroidery designs by Kaffe that just make you want to get creative!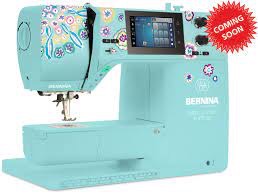 The best part is that we will have both the Special Edition Bernina 475 and the B770 on display and ready to show you as part of the Bernina Road Show that we are hosting at Annie's on Saturday July 30th (9.30-4.00). Pre-orders are being accepted now with delivery in September, but numbers are limited so if you are keen you will need to be in quick as I am sure these machines will be really popular. (I own more machines than most people....but I want one too!!!)
These machines are the same price as our regular models but there are so many extras that it is rediculous! Check out these links below
https://www.bernina.com/en-NZ/Machines-NZ/Series-Overview/BERNINA-4-Series/BERNINA-475-QE-Kaffe-Edition
https://www.bernina.com/en-NZ/Machines-NZ/Series-Overview/BERNINA-7-Series/BERNINA-770-QE-PLUS-Kaffe-Edition
Aside from all this excitement I am heading off to Akaroa this weekend for our annual stitching retreat, the car and the trailer are mostly packed, the clean undies and the tooth brush will get chucked in at the last minute!
We have lots of new kits and projects on board including this very cute little runner by Petals and Patches. Jane who works in the shop on Tuesdays and Thursdays (lovingly known as "Pink Hair Lady") has made this sample and put together kits using the fabrics pictured. ($49.90) The pattern is also available for ($23.00). The design would also be gorgeous used as a pillow case or a cot quilt.
https://www.anniesquilts.co.nz/cms/shop-online/product/2909-bunnies-on-parade-kit.html
At this time of the year the good old crock pot seems to be invaluable when it comes to getting home in the dark and having a slow cooked delight ready and waiting. This recipe was my first attempt at cooking with beef cheeks and pretty delicious with the meat melting in the mouth.
Slow Cooked Beef Cheeks
550 g beef cheeks
1 chorizo sausage
1 finely chopped onion
2 sticks of celery
6 cloves of crushed garlic
1 tbsp chopped rosemary
2 tbsp tomato paste
2 ½ c red wine
1 tin diced tomatoes
2 tsp brown sugar
Salt and pepper
Trim any sinew from the beef and heat in a little olive oil in a large pan and sear the meat on all sides. Transfer to the crock pot.
Add the chorizo to the pan and then the onion, celery, garlic, rosemary and cook until the onions have softened. Add the rest of the ingredients and bring to the boil. Add this to the meat in the slow cooker and leave on low for 8-10 hours.
Shred the beef and serve with generous amounts of the sauce, mashed potatoes topped with a little grated parmesan.
Have a great weekend and don't forget to check out what we are up to on Facebook, and Instagram
Annie's Country Quilt Store
03 3076 277