Newsletters
Annie's Ramblings 11th August 2023 - New projects, it is what makes us happy!
Hi there. I hope you are having a good week. Lately a fair bit of my life seems to have been dealing with the more mundane aspects of running a quilt shop..dealing with paper work, ordering stock, invoicing etc, so it has been refreshing to be able to work on a new quilt this week. This is what makes me happy! (You can see a sneek peak of the progress on the Annie's Facebook page).
In the meantime I am pleased to be able to show you my friend Margaret Allen's new quilt which she has loaned us to have on display in the shop for a while. The pattern is Casablanca ($20.00) by Australian designer Kathy Doughty using her Kindred Sketches range which is in stock now along with her Swatch book collection.
If you wanting to make a quilt with minimal wastage Jelly Rolls are a great option. We have a really good selection at the moment with everything from Kaffe Fasset, Solid colours, French General, Reproduction, Japanese indigos and much more besides. We also have a good selection of 5" charm square packs including Tim Holtz, Japanese and Kaffe collections. Check these out on our website, give us a call or pop in and see us.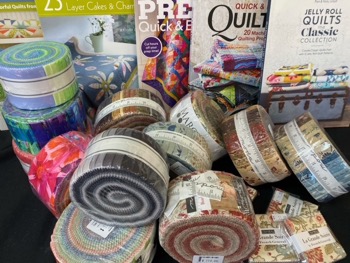 For all you knitters, seamstresses, menders and crafters...yes we do have buttons, toggles, zips, ribbons, marking pens, motifs, domes, shoulder pads, velcroe, mending patches, fabric dyes, ric rac, elastic, and hundreds of other haberdashery items.
If you need some help our dressmaking classes are starting again at the beginning of September tutored by professional dressmaker and tailoress Paula Preece – new builds and alterations, no job too big or too small all applies to these classes and we can help you out with a sewing machine as well if need be. These classes are what you need to regain the confidence to sew like a pro – book in now!
Something to mark on your calendar is the Canterbury Embroiderer's Guild Exhibiton at the Fo Guang Yuan Art Gallery on Riccarton Road in Christchurch from 19-August to 17 September, which I always an inspiration.
Before I forget, the winner of last month's $50.00 voucher from Annie's is Liz Longworth from Prebbleton. Congratulations Liz, your voucher is here waiting for you.
On to the recipe....this is a good one for the "take a plate" occasions such as our Friday night FREE cross stitch gathering once a month from 5-8 pm (shameless plug..but you really should come and join us – more details on the website!)
Sun-dried Tomato Dip
¾ C blanched almonds
Zest of ½ a lemon
1 small clove of garlic
½ tsp chilli flakes
¾ cup sun-dried tomatoes
¼ c chopped parsley
1-2 anchovy fillets (optional)
4 tbsp plain greek yoghurt
Salt and pepper to taste
Put all the ingredients in the food process and blend until it is a thick crunchy paste. Spread on crusty bread, crackers or serve as part of a cheese platter. Add more yoghurt if you want a looser consistency (which is also very good with chicken dishes).
Best wishes and happy stitching from the team at Annie's CQS.
Rachel