Newsletters
Annie's Ramblings 2 July, 2014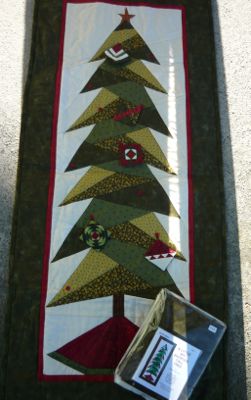 Good morning, and it is another great day to be sewing! In the course of a discussion at the weekend with some stitching gals, I made the mistake of listing off the projects that I have on the go at the moment. I am now thinking that growing another couple of arms would be a good option!
However, spending more time at work is also sounding more attractive as our home is an earthquake repair zone at present.
Scary as it is, we are now into July and it is probably time to start thinking about those Christmas projects.
If you are looking for something a little different in terms of a machine piecing project rather than a panel, this foundation pieced Christmas Tree Hanging is fun to do and can be decorated as much or as little as you like. I have made tiny foundation pieced decorations which are a separate pattern from the same designer. These are a great way to use up scraps and if you want to get away from the Christmas fabrics, they would make great brooch pins as presents for your friends or stitch group. Or you could make them as a group challenge. The patterns are $14.00 each and include the foundation papers or the Christmas tree is available as a kit with for $68.00
Another great deal I have is on genuine Olfa 45mm rotary cutter blades. These usually retail for $14.00 each, however I have managed to secure a bulk deal, and as long as you are prepared to stock up, I am happy to pass on the savings. In other words, we have packaged these so that if you buy three blades I will give you one for free ($42.00). It is always good to have spares, and if you feel four is too many, you could always split the pack with a friend. Rotary cutters are such an essential part of how we patchwork now, it makes you wonder how people managed without them!
This week's recipe is one I have borrowed from my friend Fiona. It has become a favourite at the 'soup and bread' patchwork days in Central Otago. I am not usually a fan of milk based soups, but this is delicious. In my version I have substituted light evaporated milk, but I also think it would be very tasty with light coconut or almond milk.
Curried Cauliflower Soup
2 tbsp butter
2 onions chopped coarsely
½ cauliflower cut into small floweret's
2 tbsp flour
2 tbsp curry powder
3 c Chicken stock
2 c milk
Melt butter add onions sauté. Add cauliflower and steam for 10 mins.
Add flour and curry powder cook until mixture bubbles, stirring continuously. Add chicken stock
And simmer, covered until cauliflower is cooked. Approx. 20 mins.
Liquidise in food processor. Add the milk and bring to boiling point slowly.
Well, that is from me this week, other than to announce the winner of the $50.00 voucher for June, which is Sara Marks from Wellington.
Happy Stitching
Rachel