Newsletters
Annie's Ramblings 18 March, 2015
Hi there. Before we start, I am giving you fair warning that I am going to very briefly stand on my soap box…
Last weekend we had the most fantastic time with Australian tutor, designer and amazing quilter Karen Styles, and I would like to personally thank everyone who supported me by making the effort to attend the Friday night trunk show and the two day workshop. Opportunities to learn from people of this calibre don't come along every day and they won't unless events like this are well supported.
I know attending classes does require an investment of time and money, but the rewards in terms of the knowledge, skills and confidence gained as well as being able to spend time with a great bunch of like-minded people is worth every penny and every minute. There is a need to be open minded even if it is not your usual style of quilting or piecing, there is always so much to learn.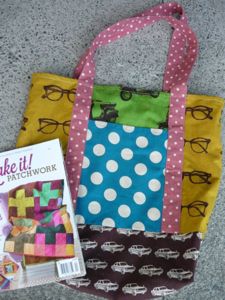 So….as I step down from my soap box, I would urge you, that next time you see the opportunity to attend a class, a trunk show or an exhibition, wherever it is – go and look and learn and embrace the opportunity to take your skills and knowledge to the next level.
You can see some of the photos from the weekend on Annie's Facebook page.
Last week I talked about some of the exciting new magazines that have arrived in, including 'Make It' which is full of 28 really neat small projects, bags, small quilts, a scrap collector, coasters, and lots more. This is the bag that I have made from the magazine using the cotton linen fabrics from Kokka. The magazine is $21.00, about the same price as one individual pattern.
The other thing I would like to show you this week is this neat little sewing bag that a friend made for me using lots of little hexagons which are stitched onto the bag base. These 'bag blanks' have lots of little pockets and pouches for needles, scissors and sewing essentials and are $39.90 each. For the embellishment, you could opt for hexagons, clam shells, lozenge shapes, stars or crazy patch embroidery panels that you then sew onto the bag with a curved needle or something that is completely unique to you.
Well, that is all from me this week apart from the recipe, and today 'warm up food' is definitely called for. This dish can be served hot or cold as a side dish and is vegetarian and gluten free!
Alloo Masala
3 large floury potatoes
1 tbsp oil
½ tsp each of cumin seeds, mustard seeds, turmeric, ground coriander
1 pinch of chilli flakes
2 cloves of crushed garlic
1 tsp fresh grated ginger
1 tsp lemon juice
Salt to taste and fresh coriander to garnish
Boil the potatoes in sales water until tender, then drain and cool.
Heat the oil in the fry pan until hot and then add the seeds first then potatoes, garlic, ginger and other spices. Stir fry for a few minutes and then add the lemon juice before seasoning with salt and garnishing with the coriander.
That's all from me, take care and happy stitching.
Rachel
Annie's CQS