Newsletters
Annie's Ramblings 17 June, 2015
Hey there! I have decided that there is nothing quite like that sense of achievement you get when you finally finish a project and you know you have done your best work. (Sometimes it takes a while!)
This week I finally picked up my cross stitch from being framed, and after a couple of years of stitching on and off it is great to have it hanging in the shop. (One day it will make it home!) In the meantime I have managed to source the patterns, along with some others for beautiful historic samplers from Scarlet Letter which are now on the website.
This pattern called "Ann Grimshaw" is an Ackworth Quaker School sampler pattern from 1818, and is $42.00. >>>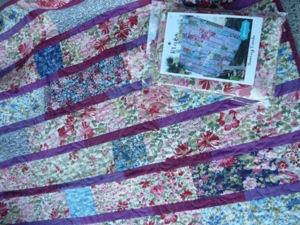 Another project recently completed is the very pretty quilt using Moda's Regent Street lawn fabrics. This pattern called "Flora" from Valarie Wells is $22.50 or it is available as a kit for $152.00. We also have jelly rolls, charm squares and fat eighth packs available as well as bolted fabric, but it is selling out fast.
Also new in this week are several magazines including the New Zealand publication Stitch Craft Create, Quilting Arts, and Frankie. We also have some more nice bright wool fabrics arrive in as well some very 'zingy' cotton fabrics that will add colour to your winter days…you will just have to pop into the shop and have a look!
Also due to arrive in the next few weeks are the 2016 Sue Spargo Calendars featuring stunning close up examples of her work in brilliant colour. These will be $43.00 each and you can Pre-Order now to make that you don't miss out!
Well, onto the recipe…here is a tasty rich cake if you are looking for a spot of mid-winter Christmas. Make sure that you sample the brandy before you pour it over the cake…just in case it has gone off!
Rich Chocolate, Prune and Fig Christmas Cake
2 c glace fruit chopped
2 c diced prunes
1 ¼ c raisins or sultanas
1 ¼ c diced figs
Grated rind of two oranges
1/3 c orange juice
¼ brandy
¼ c plum jam
2 tsp each of vanilla and almond essence
1 ½ t nutmeg
1 tsp mixed spice
2 ½ c flour
1 T baking powder
3 eggs
1 cup muscovado sugar
¾ oil or softened butter
100 g chopped dark chocolate
The day before baking, toss together the dried fruits, orange rind, juice, brandy, jam, spice and essences. Cover and set aside overnight.
The next day preheat the oven to 160C. Prepare and line a 20 cm square cake tin well with several layers of thick paper to prevent the cake from drying out while cooking.
Sift the flour and baking powder. Beat the eggs and sugar until thick and gradually add in the oil or softened butter. Stir in the dry ingredients, fruit and chocolate. Pack the mixture into the tin and bake for 2-2 ½ hours or until cooked.
Cool in the tin and pour over or drink some more brandy if you wish.
Take care and happy stitching,
Rachel
Annie's CQS