Newsletters
Annie's Ramblings 10 September, 2014
Hi there or should I say "Ho, ho, ho!" as we are another week closer to barbeque weather (she says diplomatically), with a subtle reminder to get onto those projects that need to be finished before the end of December.
We seem to be in a bit of a holding pattern in terms of fabric deliveries at the moment with lots of parcels to arrive in the next few weeks, and lots of samples to be made, which of course is all part of the fun.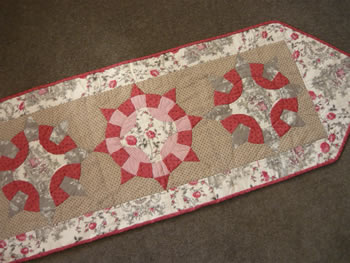 Speaking of samples I have just finished this table runner using the Strawberry Template Set ($65.00) and a collection of French toile fabrics. The finished block is 14.5" and I have put together a fabric kit ($72-) for the table runner. This includes all the fabrics for the top and the binding. Although the block does look tricky, the instructions are very clear and as long as you play by the rules in terms of accuracy, it goes together really well. It would also look great as a bed runner.
There is good news for fans of Steam a Steam, firstly because we stocked up well before this went out of production we do still have some supplies, however the company is now back in production with release dates for the new shipments scheduled for next month. This is a great product, used in a similar way to vliesofix, but it does not tend to separate and it can be repositioned on your fabric prior to ironing. If you would like some more information take a look at this site.
http://warmcompany.com/sasdir.html
The new edition of the very popular Simply Vintage magazine from Quiltmania has arrived in and is packed full of 24 projects for $24. A dollar a pattern, plus pictures and articles and inspiration – you can't really argue with that. For those of you with standing orders of this magazine, these have been sent out already, however we do have a few extra copies – first in first served, as once they are gone that will be it until the edition (quarterly). This addition also features projects from Australian designers Natalie Bird and Lynette Anderson.
For all those embroiderers/quilters out there, I have just come across some very good quality German hoops. These are very strong and made from polished beechwood. We are very lucky to have some of these hoops to give away as spot prizes at our trunk show with Natalie Bird (Friday 19th September) with the compliments of Craft Co, our New Zealand distributor. You may have heard of the lap or sitting hoop. I have been testing this one out with my cross stitch project, and I can tell you that it is great in terms of giving you two hands free with the bottom of the stand held in place as you sit on it. The height of the hoop can also be easily adjusted. This usually retails for $105, but orders this week will get $10.00 off.

For more information about the hoops you can go to http://www.klass-gessmann.com/products.html
Well, that is about all from me apart from the recipe - fabulous if you need a dose of crispy cheesy goodness.
Crispy Cheesy Ham Bowls
6 bread rolls
Cooking spray or oil
3 eggs
1 cup milk
¾ c grated tasty cheese
1 ½ c diced ham
½ tsp whole grain mustard
½ tsp smoked paprika
1 tsp Worchester sauce
Salt and pepper
Chopped parsley, chives and spring onion to garnish.
Preheat the oven to 200 C. Slice the tops off the rolls and remove any loose bread from the inside, taking care to leave the outer shell intact. Spray or brush the insides lightly with oil and place them on a tray in the preheated oven and bake for 10 minutes until lightly toasted.
While the rolls are baking, combine all the ingredients except for the garnish and mix together with a fork.
Remove the rolls from the oven and fill them with the egg and ham mixture. Bake for 20-25 mins or until the filling is puffed and set. Sprinkle with the garnish and serve with a crispy salad.
Take care and happy stitching
Rachel
Annie's CQS