Newsletters
Annie's Ramblings 18 December, 2014
Hi there and best wishes for the festive season.   At this point I reckon the best you can hope for is that your fairy lights keep blinking, you don't burn the Christmas baking and that you don't put on five kilos in the next couple of weeks!  Aside from all that there are still several more sleeps to go before Santa makes an appearance and much to do.
Thinking ahead to next year, it is going to be really exciting with the lots of amazing things coming up  with classes, national and international tutors, and a trip to Quilt Market in the US and then a visit with our daughter in Toronto, but first and approaching very rapidly is the National Quilt Symposium in Palmerston North mid January at which Annie's is a merchant.  Don't forget that you don't have to be registered to enjoy the many exhibitions, and merchants mall.  www.quiltsymposium.co.nz
The other really exciting news is Annie's CQS is pleased to be able to bring well known Australian quilt artist, fabric designer and tutor Karen Styles  to New Zealand in March 2015.  Her visit here will take the form of a Friday night trunk show 13 March and a two day weekend workshop 14-15 March.
Karen specialises in 1800's reproduction fabrics and has just released her own collection 'Victoria Park'  which is fresh and floral drawing inspiration from wallpapers and soft furnishings from days gone by.  This fabric is on order and will be here in time for her workshop, but you can have a sneak peak at it here
http://www.marcusfabrics.com/cgi-bin/fabricgallery/gallery.cgi?Category=795#.VJCpKCuUeaQ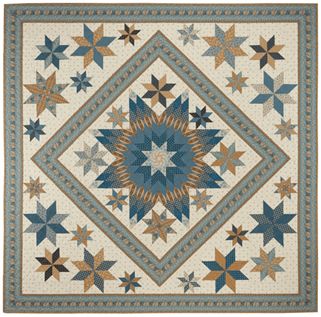 Karen's workshop will focus on precision piecing either by hand or machine to produce beautiful 9" star blocks (like the ones in the picture left) using template sets to achieve accuracy, and  how  to fussy cut fabrics to create colour an movement in your quilts.  The cost for the two day workshop is $220.00 and this includes your pattern and template sets.  This is an opportunity to learn from a top level international tutor and should not be missed.
We stock a number of Karen's patterns at Annie's and I am currently working on one of her designs which I hope to be able to show you soon.  In the meantime you should check out some of Karen's work at the address below, including her truly spectacular 'Mrs Billings Coverlet' which is also on my  'to-do' list.  
Here are a few dates to mark in your diary for 2015:
National Symposium Palmerston North 16-21 January
Karen StylesTrunk Show and Workshop 13-15 March
Annie's Akaroa Reatreat 26-28 June
Sue Spargo Nelson Trunk Show Monday 31 August
Sue Spargo Nelson Workshop Tuesday-Wednesday 1-2 September
Sue Spargo Ashburton Trunk Show - Friday 4 Septemnber
Sue Spargo Ashburton Workshop Saturday-Sunday 5-6 September
Sue Spargo Ashburton One Day Workshop Monday 7 September.
This week's recipe is super easy and made in individual servings and keep in the freezer for up to a month in an airtight container.  They are great for when you have unexpected guests, and a good alternative to having a whole cheesecake in the fridge which you feel that you have to eat for a week.  The nuts and the flavours can be altered to suit your tastes.
Frozen Peanut Butter Cheesecakes
1/3 c crushed toasted peanuts
250 tub of cream cheese
1/2 crunchy peanut butter
1/2 c firmly packed brown sugar
3/4 c thickened cream
8 chocolate wheaten biscuits
Spray 8 holes in your large muffin tray with oil and divide the crushed peanuts between each.
Using an electric beater, mix the cream cheese, peanut butter and sugar in a bowl until smooth.  Beat in the cream until just combined.  Spoon the mixture over the nuts and smooth the surface.
Press a biscuit chocolate side down into each whole and cover with plastic wrap.  Freeze overnight.  Remove from the tray using a warm knife and serve on a plate with biscuit side down and garnish with extra chocolate and fresh strawberries.
That is all from me this week.  Just to let you know, over Christmas we will be open every day 9.30am-4.30 pm as usual except for 25-26 December and 1-2 January
Take care and happy stitching.
Rachel