Newsletters
Annie's Ramblings 24 December, 2014
Merry Christmas! Only one more sleep to go! It is a crazy old season, and one that means different things to different people. This year Christmas day will be very different for us – the first time that we have not had our children home together as two of the three will be experiencing a white Christmas in different parts of the world.
However I am already planning a mid-winter Christmas later next year when we are all home together which will be fun. Until then we just marvel at the wonders of modern technology which brings us Skype and instant messaging!
Anyway, whatever you are doing I hope you enjoy this time with family and friends and I wish you every happiness and good health for Christmas 2014 and the New Year to come. I would also extend a huge 'Thank You' to you, without the customers that we see every day through the door as well as through the website, there wouldn't be an Annie's, so again thank you for your support over the past year.
My thanks also go to my team - Jack, Karen and Kaye who all go out of their way to make things run smoothly.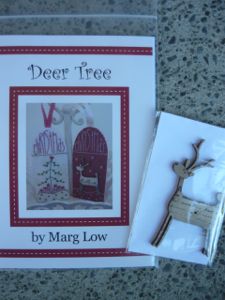 Before I take tootle, I would like to share with you a couple of kits that I have been working on from very talented Australian designer Marg Low. (Just to keep you inspired!) The first is the Cupcake pincushion. This is little and very cute with the finished size being about 2". The kit is $18.50 and includes the pattern fabrics, pelon and template plastic.
The next one is Dear Tree (I am actually still working on the sample) but the kit is $26 and includes the pattern, pelon, card, fabric, threads and hand-made deer button for both designs.
On to the recipe…this year I tried a new Christmas cake recipe which seems like a winner. The brazil nuts give it a really nice flavour and a good measure of brandy sloshed on the top helps too!
Plum Good Christmas Cake
600 g diced prunes
1 c glace cherries
½ c blanched almonds
¼ c brazil nuts
1 c brown sugar
125 g butter
½ c brandy
¾ c water
2 lightly beaten eggs
¾ c plain flour
¾ c self-raising flour
2 tsp mixed spice
Grease and line a 20 cm round tin. In a saucepan combine the plus, cherries, sugar, butter, brandy and water.
Over a medium heat stir until the butter is melted. Cool.
Combine the flours and mixed spice in a large bowl and stir in the fruit and eggs until just combined.
Spoon into prepared tin and bake at 150 C for 1 1/2-2 hours or until a skewer comes out clean.
That is all from me this week, take care and happy stitching.
Don't forget we will be open every day except Christmas Day, Boxing Day, New Year's Day and Jan 2.