Newsletters
Annie's Ramblings 15 April, 2015
Hi there, another week ticks around and with a certain wintery bite to things after what has been an amazing summer and autumn. In fact as I said to the girls in the shop yesterday, you can almost smell the penguin poo on the breeze from Antarctica as it whistles through!
However it is an excellent time for stitching and comfort food, such a good thing we have plenty of both! Lots more goodies have arrived in over the past couple of weeks including some more books from Quiltmania, fabrics from French General, Kaffe Fasset, Anna Maria Horner.
Take a look at this very beautiful Regency Lawn fabric from Moda which we have in jelly rolls and charm square packs with the rest of the metreage arriving in the next day or so. If you have been tempted into the world of English paper piecing, this would look gorgeous made into tiny hexagons, clam shells, apple cores or any number of other shapes which you could loving sew together over the winter.
Some new punch needle patterns are being added to the website as well as a new book from Willyne Hammerstein 'Millefiori Quilts 2'.
I am now on the countdown to how many weeks (not sleeps yet!) until we head off overseas to attend Spring Quilt Market in Minneapolis and then onto see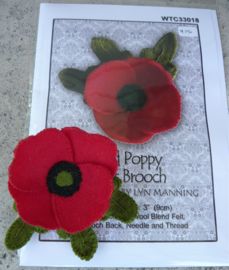 our daughter in Toronto. It is all very exciting and I am trying not to get stressed out about how much I have to do before then! Let me know if there is something in particular that you would like me to keep an eye out for at Market and I will do my best.
As Anzac Day is just around the corner, it is not too late to make your own Anzac poppy with this very quick easy and reasonably priced kit from Lyn Manning. It is $15.00 and includes everything you need to complete the project including fabrics, thread, pin back and needle.
Before I forget don't forget about "Stash Re-hash" this weekend at the Sinclair Centre from 11.00 am-2.00 pm on Saturday which is a fundraising for the Arthritis Foundation and a change to pick up a treasure of two. The organisers assure me there is lots of good stuff this time including several 'estate lots'.
http://www.arthritis.org.nz/event/ashburton-stash-rehash-saturday-18-april/
Well, that is all from me this week apart from the recipe. As the kids head back to school next week after the holidays, this is a great 'travel friendly' cake packed full of goodies to keep you going.
Apricot and Walnut Slab
½ c each of prunes, dried apricots and walnuts (chopped)
¾ c flour
3 large eggs
1 c brown sugar
1 tsp baking powder
½ tsp salt
Preheat the oven to 180 C and grease a small cake tin.
Into a bowl place the dried fruit and nuts and set aside. Beat the eggs and gradually beat in the sugar until it is really thick. Fold in the dry ingredients and spread the mixture into the tin. Press the dried fruit and nuts into the batter and bake until golden. When cool cut into slabs or wedges. This cake can be stored for several days in an airtight container – if it lasts that long!
Take care and happy stitching,
Rachel
Annie's CQS