Newsletters
Annie's Ramblings 1 April, 2015
Hi there and a very happy Easter weekend to you all! This is just a quick newsletter this week as I am off to Golden Bay to spend the weekend with my parents. However, never fear …. the shop will be open on Saturday and Monday over the long weekend.
It has been a very busy week, however all the counting is now done and stocktaking is out of the way for another year thank goodness. At this point I am thinking it will take at least 12 months to get over it!
The other good news is that the last of the fabric I have been waiting for from France for the Colmar Block of the Month arrived yesterday. We are now collating this and the first postings for those you have signed up will be sent out next week. If you have been umming and ahhing about this, I think there are only two places left in the program, so be in quick!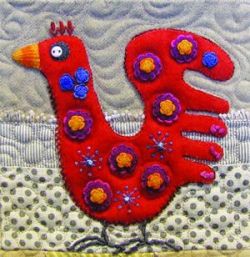 Also a quick reminder that there are still a few places left in the workshops we are hosting with Sue Spargo in September in both Ashburton and Nelson (more details on the website), but you will have to be in quick for these ones too.
New stock that we will be unpacking today includes rotating cutting mats, patterns, more cotton clothesline for the Bali bags, Soft and Stable, books, Valdani threads stitcheries, charm square packs, new magazines and loads more fabric. Where are we putting it…well, I am not sure!
Now for the recipe…just in case you are in need of a little love/chocolate.
Molten Chocolate Puddings
350 g dark chocolate (chopped)
50 g soft butter
150 g caster sugar
4 eggs
2 tbsp plain flour
Grease six ramekins and place on a baking tray. Put the chocolate in a heatproof bowl and set over a saucepan of simmering water until it is melted. Beat the butter and sugar until it is fluffy, then with the mixer still going gradually add the eggs. Add the flour and ensure all the ingredients are well combined. Add the chocolate and beat to a smooth paste. Divide into the ramekin dishes and set them aside until you are ready to cook them.
To cook, preheat the oven to 180C and then cook for 18-20 mins until gooey in the middle and the outside edge is cooked to about 1 cm.
When cooked serve immediately and serve with cream or icecream. Yum!
Last but not least, the winner of the $50.00 voucher from Annie's for the April draw is Julie Smith.
Take care and happy stitching,
Rachel
Annie's CQS