Newsletters
Annie's Ramblings 8 October, 2014
Hi there. Well, this week I have had several very pointed reminders about how life can turn on a dime, kick you in the butt and remind you that it is our ability to change and adapt to new situations that sets us apart.
Ok….that was the deep and meaningful part of this week's ramblings, and we are adapting as we speak!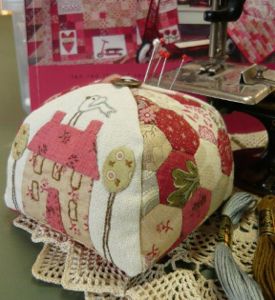 Moving right along, this week I thought I would show you this very cute little pincushion that I have just finished. This incorporates a number of different techniques including English paper piecing, embroidery and applique. It is also filled with the crushed walnut shells which stop your pins and needles from rusting and give a good weight to your pincushion. I have put this together as a kit for $16.50 (this includes fabric, hexagon papers, pelon and the crushed walnut shells), but you will also need by buy Natalie Bird's Red Home book $43.00 which is full of beautiful patterns for quilts as well as smaller projects
English paper piecing has become very popular in the last couple of years with some stunning patterns and books now available in both traditional and contemporary designs. The queen of hand piecing is Australian quilter Sue Daley. We stock a number of Sue's products and patterns as well as paper templates, in all different sizes and shapes, Sewline glue pens and rotating cutting mats. If you are not sure where to start with this technique Sue has produced an excellent series of videos on line which are packed with hints and tips and well worth a look.
https://www.youtube.com/watch?v=Nqa70gU-E9U
Now, just as another gentle reminder that Christmas is coming this week I am offering 25% off all Christmas fabrics, this includes fat quarters as well as fabric on the bolt. This is an in-store special, however if you know what you want or are happy for me to choose, you are welcome to email or phone me and I will be happy to extend the offer to you.
This week's recipe is a good one if you have a spare egg white hanging around and are not sure what to do with it, or if your kids have all flown the coop and you need a tasty dessert for two (although the recipe can be doubled if you have company). I seem to still be cooking as if there were five of us at home – it is a good thing we like left overs!
Meringues for Two
1 large egg white
1/8 tsp cream of tartar
Sprinkling of salt
¼ c icing sugar
¼ tsp vanilla extract
Preheat the oven to 130C. Cover a tray with baking paper.
Beat the egg white, cream of tartar and salt at hi speed until foamy. Gradually add in the icing sugar one tablespoon full at a time, beating until stiff peaks form. Lastly fold in the vanilla.
Divide the meringue into two equal nests and bake for 1 ½ hours or until dry. Turn the heat off and let the meringues cool in the oven with the door closed for at least 3 hours.
Carefully remove the meringues from the paper and serve with whipped cream, berries or chocolate or whatever fruit and flavours appeal. Last night we had these with lemon curd, whipped cream and passion fruit couli. If you look back through the recipes on the website you will find the one for the lemon curd which is quite delicious.
Take care and happy stitching
Rachel
Annie's CQS