Newsletters
Annie's Ramblings 16th October, 2014
Hi there. More large boxes of stock arrived from the US today, so we have been busy unpacking, patterns, notions, Valdani threads, coloured sashiko threads, my favourite straw needles, as well as some great new books.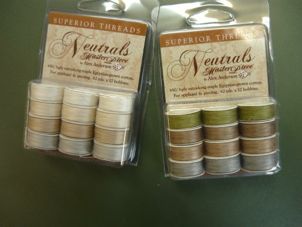 One of the other things to come out of the box are these pre-wound bobbins from Superior threads. These are brilliant – they fit into any machine and contain more than 75 m of fine excellent quality 100% Egyptian cotton thread, three or four times as much as you can wind onto a bobbin yourself. These are $2.00 each or $22.00 when you buy a pack of 12 bobbins.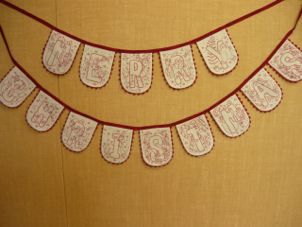 Every Tuesday night we have a crazy (but very productive) group of ladies who meet for class at Annie's – everyone is welcome, however a sense of humour is a definite pre-requisite! Just to prove to the husbands/partners/families of these stitchers that these ladies are not just off down to the pub every Tuesday (although has been suggested on more than one occasion I can assure you!), I thought I would show you this Christmas bunting which has been beautifully stitched by Patsy Jamieson. These are Rosalie Quinlan patterns which comes as either Merry ($34) or Christmas ($39) and include the pre-printed hanky linen, as well as the hard copy of the pattern.
We seem to be selling lots of magazines at the moment with the latest issue of New Zealand Quilter having just arrived in, as well as Down Under Quilts, and Inspirations. Quilting Arts, Stitch, Frankie, Quilt Sampler, Quiltmania, Simply Vintage are titles that we carry, and if you are looking for any other title we will do our best to try and find it for you. If you would like to place a standing order, please let us know and we will be sure to post your magazines out to you so that you don't miss an issue.
Annie's will also feature in the next issue of Homespun magazine as part of a travelling around New Zealand feature, so keep an eye out for that. Homespun also have a very good website, which has some free projects as well as a guide to where to find the best quilt shops in NZ and Australia.
Now, on to the recipe. If you are in need of something nibble, this might be just the ticket.
Anytime Energy Boost Nuts and Seeds
3 cups of nuts and seeds such as almonds, cashews, brazils, pumpkin and sunflower seeds
1 beaten egg white
2 tbsp melted honey
1/3 tamari soya sauce
Preheat the oven to 160C. Line a tray with baking paper.
Mix all the ingredients together and then place on a tray and bake for about 25 mins or until golden, stirring every 5 minutes.
Take care and happy stitching
Rachel
Annie's CQS