Newsletters
Annie's Ramblings 3 October, 2014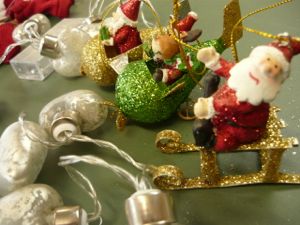 Hi there. Well I can't believe we are into October, and of course the end of year goblins will be out in force shortly turning the world a little bit faster each day until we reach that magic day in December. I am still thinking that there is an awful lot to get through before we reach that point, but the first of the Christmas parties is marked on the calendar already!
To add to that, this morning I have been unpacking new Christmas decorations that have just arrived in.
I also have an update for all of you who have been patiently waiting and looking forward to our workshops with fabulous Australian Designer Di Ford (author of Primarily Quilts). Unfortunately Di has been dealing with some fairly serious health issues, and has decided to postpone her visit to New Zealand until later in 2015. She is still very keen to come, but I am sure we can all appreciate that health comes first. We will keep you posted once we have confirmed dates and will contact everyone at that time who has expressed interest in the classes.
In the meantime, you could check out this site for some really funky ideas for Christmas decorations.
www.theartofupcycling.com/2013/09/diy-christmas-decoration-ideas.html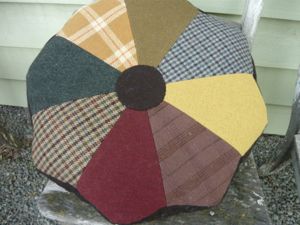 In the past few days I have been putting together some kits for this cosy wool cushion. It is simple to make and you are welcome to pre-order your kit with pre-cut Dresden shape sections for $69.00 or the pattern will be available for $26.90. It is a large cushion and the pattern also includes instructions for a pouf. There seems to be a trend with a lot more coming back into soft furnishings which not only looks great, but is hard wearing and functional.
If you feel the need to practice you Gingerbread (men) cookies in time for the festive season, here is a very tasty recipe that works well and it is fun if you want to get the kids involved with the making and decorating.
Gingerbread Cookies
200 g softened butter
8 tbsp brown sugar
4 tbsp golden syrup
2 tsp baking soda dissolved in a tbsp hot water
½ tsp vanilla essence
2 cups flour
2 tsp ground ginger
1 tsp cinnamon
Pinch of salt
Preheat the oven to 150C
Beat the butter and sugar together and then add the golden syrup, baking soda in water and vanilla essence. Stir in the dry ingredients and knead well.
Roll out the doll between two sheets of baking paper until about 1/2" thick. Cut out shapes, place on a tray and bake for 10-15 mins. Cool on racks and then ice with royal icing which you can make by beating together 2 cups of icing sugar, an egg white and a squeeze of lemon juice.
Last but not least, the winner of the Annie's $50.00 voucher for September is Colleen Carr from Christchurch. Congratulations Colleen!