Newsletters
Annie's Ramblings 6 August, 2014
Hi there,
Isn't it great to see the days getting longer again with that hint of spring in the air. It makes you feel much more inclined to be out in the garden pulling the odd weed and snipping things here and there. It just doesn't pay to leave the phone out there to get rained on, as I did last night!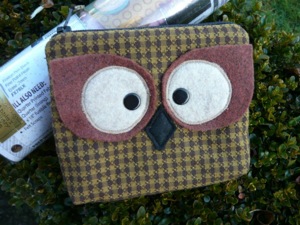 Anyway, moving right along. I have a couple of new projects to show you this week including this very cute little owl purse. This is available as a kit with everything you need including the pattern, fabric, zip, pelon, snap domes (and the tool to put them on) and charm to put on the zipper tag for $26.00. These are quick and easy to make, in fact you could whip up a few in an afternoon and have them on hand as a delightful handmade gift.
Something else that I have been playing around with is the Wheel of Fortune Template Set designed by Michelle Marvig. It is very easy to use as the wheel is put together in sections, and makes a very effective block. There are also instructions for a variation on the block with Dresden plate points, and I think very interesting effects could be achieved by just using the smaller inner wheel of the block or perhaps making a twisting pieced ladder with the outer templates. Lots of possibilities! The wheel that I made used just two 4 1/2" strips of fabric (one of each colour). The template set including instructions is $42.00.
http://www.anniesquilts.co.nz/cms/shop-online/product/1027-wheel-of-fortune-template-set.html
New arrivals in the shop this week include lots some stunning new fabrics from Anna Marie Horner (the blue and green thistle print I have used in the block above), as well as lots more batik fabrics and heaps of Christmas pieces in the $1.00 bin for those of us who love to treasure hunt (and let's face it - who doesn't!).
My daughter Rosie has been helping me this week and she has done a great job of loading lots more patterns, specials and quilting must haves onto the website, so if you have a few minutes, pull up a chair and have a meander through the pages. Also don't forget that if you can't find what you need, you can always give us a ring at the shop and talk to a real person rather than cursing the computer screen!
Now, onto the really important stuff... the winner of the $50.00 voucher for July is Carol O'Connell of Ashburton. Congratulations Carol!
This week's recipe is one I have adapted from the latest issue of one of my favourite cooking magazines 'Dish'. It is a very tasty twist on roast chicken with delicious onion gravy, which due to constraints of time (always being at work?) I cooked mostly in the crock pot.
Pear Cider and Thyme Braised Chicken
1 whole fresh chicken
1 lemon, quartered
1 tbsp olive oil
knob of butter
3 large onions
sprigs of thyme
2 bay leaves
1 cup of pear cider
4 small heads of garlic with the tops sliced off
1 c chicken stock
salt and freshly ground pepper to taste
Rinse the chicken, pat dry and stuff with the lemon quarters. Truss the chicken with kitchen string and season with salt and pepper.
Heat the oil and butter in a cast iron frying pan or casserole dish (or this can be done in the roasting dish in the oven) and braise the chicken both sides until golden. Place the chicken in the crock pot.
Add the onions, thyme, bay leaves to the frying pan and cook for 10 minutes stirring often. Increase the heat and add the cider and stock and bring to the boil. Pour this mixture over the chicken and place the garlic around it. Cover and cook on low for several hours.
Lift the chicken out when cooked and thicken the gravy if needed. Serve with your choice of vegetables. Serves 4-6.
Take care and happy stitching.
Rachel