Newsletters
Annie's Ramblings 27 August, 2014
Hi there.
First of all I have to say a big thank you to all of you who passed last week's recipe test and emailed me, and for those of you who are still wondering, there were supposed to be three eggs in the Potato Onion and Thyme Galette. My apologies, I will triple check the recipe this week.
In terms of what is coming up, I think this could best be described as 'the calm before the storm', exciting and if you think too far ahead, just a little bit scarey! Aside from Natalie Bird's visit next month and a trip to Auckland, I am a merchant at the Golden Bay Quilters exhibition at Labour weekend and also at 'Crafty Christchurch' (mark this one on your calendar for 30 October-1 November). Then there will be trip to Melbourne before it is full steam ahead for our National Symposium in Palmerston North where I will be a merchant as well. Phew…..I think I need another cup of tea!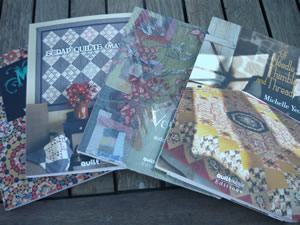 Anyway, let's get back to getting through today and not thinking about how many samples have to be made.
We have had some more very beautiful books arrive in from Quiltmania, just in case you needed some more inspiration, including titles from Michelle Yeo and Linda Koenig. You can check these out on the website for more details.
We have also had a large shipment of rusty bells, and quilt hangers and bits and pieces arrive in. This may be the last as the wholesaler is going out of business, so if you are needing some supplies it may be a good time to stock up.
I am also needing to make some space in my storeroom and I am offering the last of our Women's Voices BOM for $200.00 when you buy the whole set at once. This is less than half price! First in gets the bargain.
http://www.anniesquilts.co.nz/cms/shop-online/product/298-women-s-voices.html - monthly
http://www.anniesquilts.co.nz/cms/shop-online/product/1132-women-s-voices-bom-special.html - Full Set
This week's recipe is not exactly diet food (diabetics should close their eyes now!) but they are very tasty little morsels and an ideal treat with a cuppa. I think perhaps 'muffins' is a loose term in this case as they have a more crispy texture.
Pecan Pie Muffins
(makes 24 mini muffins)
1 c packed light brown sugar
½ c flour
2 c chopped pecans
150 g softened butter
2 eggs
½ tsp baking powder
Preheat the oven to 190 C and grease your mini muffin tins. Mix together the brown sugar, flour, baking powder and pecans in a bowl. In a separate bowl beat the butter and eggs together and then stir into the dry ingredients until just combined.
Spoon the mixture into the muffins tins (about 2/3 full) and bake for about 12-13 minutes.
Well, that is all from me this week as I have samples to finish as well as the odd bit of housework I guess. (I would far rather be sewing!)