Newsletters
Annie's Ramblings 17 September, 2014
Hi there. I have decided that there may well be something to be said for the idea of extending the term of government in this country, if only to stretch out the time between political broadcasts! At this point keeping up with it all is a bit like taking your medicine – you know you should, but whichever way you take it, it still leaves a nasty taste in your mouth and you are never quite sure if it is going to do any good.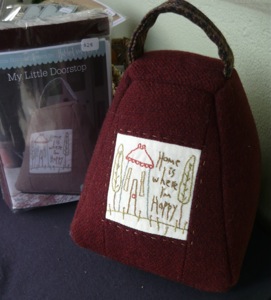 Anyway, isn't it great that we have plenty of stitching to take our mind off the politics! I have a couple of new projects to show you this week. The first one is the Elizabethan style pinball and needle holder by Brenda Ryan. This comes as a kit (pattern with hand dyed felts and hanky linen) for $39.00 and a thread pack is available from Cottage Garden for $29.90. The large cotton reel for the stand is $9.50.
The other is a very cute little door stop (although you could also use it as a pin cushion) from Hatched and Patched. The pattern comes with the pre-printed stitchery and is $16.50 or it is available as a kit in the wool fabrics (the same as my sample) for $28.00. It would also make a neat Christmas gift and is pretty quick and easy to make.
New in this week there have been some new Valdani threads arrive, more patterns along with some lovely Japanese cottons in the taupe shades.
If you are planning a trip to Europe next month, Veldhoven in the Netherlands is host to the Open European Quilt Championships, and could well be worth a look if you are in the area.
https://www.facebook.com/OpenEuropeanQuiltChampionships/photos_stream?ref=page_internal
Closer to home make a note on your calendar at Labour weekend as the Fairlie Patchwork Group are holding their exhibition, and the Golden Bay Patchworkers will be setting up at Collingwood.
This week's recipe is a really delicious salad, in fact it is my favourite – fresh, crunchy, nutty and full of flavour. It can be served as a whole meal or as a side dish.
Chickpea, Beetroot and Nut Salad
¾ c dried chickpeas soaked and cooked until tender with ½ tsp turmeric or you can replace with two cans of well rinsed chick peas
1 medium beetroot cut into match sticks, rinsed and set aside to dry off
1 large carrot cut into match sticks
4 spring onions
2 sticks celery, diced
1 thumb size piece of fresh ginger
½ cup parsley and coriander leaves coarsely chopped
Toss in a large bowl and set aside while you prepare the nut mix and the dressing.
2 c of a mixture of peanuts, cashews, sunflower seeds, pumpkin and sesame seeds
2 tbsp brown sugar
½ tsp each of salt, cumin and coriander powder
¼ tsp chilli powder
25 g butter
Bake the nuts and seeds in the oven for 5 minutes at 180C, then sprinkle with the sugar and spices. Add the butter and bake for another 10 minutes stirring often. Set aside to cool.
For the dressing
3 tbsp balsamic vinegar
½ tsp brown sugar
½ c olive oil
Salt and freshly ground black pepper
Mix all the ingredients together. Yum!
On the don't forget list this week…..
The Natalie Bird Trunk Show Friday night
Voting on Saturday
Ashburton's Boulevard Day Monday
Bookarama starts Monday
Take care and happy stitching
Rachel
Annie's CQS