Newsletters
Annie's Ramblings 13 August, 2014
Hi there. Another week has ticked on by with more parcels arriving at the back door and lots leaving by the front door with happy customers, and here we are at newsletter time again!
I am also excited about this gorgeous new project that I have just finished which involves a bit of hand stitching and some gluing to produce this heirloom sewing box, needle case and tape measure case using Moda's French General fabric. I have put together a limited number of kits with the cardboard, fabric, tape measure and pattern for $99.90 or the pattern is available if you would like to use your own fabrics for $56.00. I freely admit that this is an expensive pattern, but I believe it is one that you can use again and again. Just the needle case or tape measure holder would make a beautiful gift for a special friend.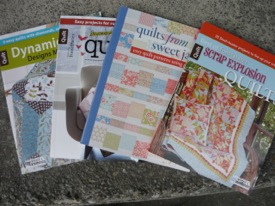 We have also had lots of great new books arrive in which are always great inspiration and good value when you look at the number of patterns you are getting often for little more than the price of a single pattern.
Due to my on-going fascination with Civil War quilts we are developing this 'overflowing' collection of beautiful fabrics from this era along with numerous books and patterns. This includes treasures from one of the best known authorities on this subject, American author, historian and fabric designer Barbara Brackman. If you need further inspiration you could check out her blog at http://barbarabrackman.blogspot.co.nz/
Also, just a reminder that if you are still keen to join our Dear Jane Club you are very welcome on the last Sunday afternoon of each month. You just need your own copy of the book and a 'can do' attitude! Although progress is slow on my version of the quilt, you are welcome to have a look at it the classroom at Annie's. While it is still on the wall and not in the back of the cupboard, I see this as a good sign!
This week's recipe is a great lunch box stand by. Unlike a lot of the other muesli bar recipes that I have tried that fall apart when you look at them and beg to be smothered in milk and attacked with a spoon, this one seems to hold together really well. However, depending on your sweet tooth I think you could quite happily use half the amount of sugar. I usually double the quantity and bake it in a large well-greased meat dish.
Muesli Bar Slice
2 c of each rolled oats and cornflakes
1 c flour
¾ c raw sugar
½ c each of chopped dried apricots and cranberries
70 g each of chopped almonds and cashews
1 tsp baking powder and ginger (or cinnamon)
200 gm butter
½ c golden syrup
1 tbsp sesame seeds
Preheat the oven to 180C.
Mix together the oats, cornflakes flour, dried fruit, nuts, seeds, baking powder and spices in a large bowl. Melt together the sugar, golden syrup and butter. Whisk until combined and then pour over the dry ingredients.
Press into your greased dish and bake for 20 mins or until golden and firm. Leave to cool and then cut into bars.
Happy stitching.
Rachel
Annie's CQS