Newsletters
Annie's Ramblings - specs, tuffets, japanese fabrics and overlockers
Hi there. I have a distinct feeling that the next few weeks are going to fly by very quickly, as we are heading overseas again, this time for a rather more intrepid adventure on a fabric and textile tour through the Rajastan region in India. This is something that we have been really looking forward to for a long time, and as the departure date approaches it suddenly becoming a whole lot more real!!!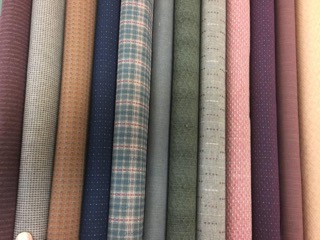 Our tour guide has suggested that if we had any old glasses (spectacles), it would be great to be able to take those with us for reuse by the local Indian communities. So I am putting a shout out to you all to have a look in the cupboards and draws to see if we can put together a parcel. Thank you in advance!
Another week has whizzed around with lots of parcels coming and going from the shop! Just arrived is a large box chock full of the most beautiful textured Japanese fabrics, as well as lots more Kaffe Fassett fabrics which are ideal for the Laura Heine collage patterns.
This weekend we have another Tuffet class for the very popular foot stool. We have a couple of places left if you are keen to join us – everybody goes home with a finished tuffet at the end of the weekend!
In terms of machines, this month we have some great savings on Bernina and Bernette overlockers and lay by terms are always available.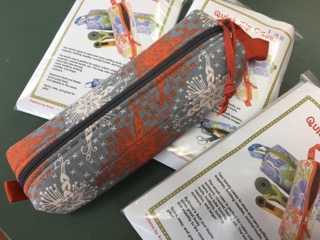 I also thought I would show you this handy zip purse that is super easy to make and would make Christmas gifts...think pencil cases, make up bags, rotary cutter and mini ruler bags, or marble bags (for when you are not sure where you left them!!). These are available as a pattern or a kit for $38.00 and there is a pattern included for a larger size as well.
This week's recipe in another good one for the slow cooker.
Spicy Lentil Soup
½ cup dried red lentils (rinsed)
1 litre of chicken stock
400 g tin of tomatoes
2 bay leaves
3 cloves of garlic (crushed)
1/3 cup mild Indian curry paste
2 carrots
2 potatoes
1 stalk of celery
Combine the lentils, chopped vegetables and other ingredients in the crock pot and cook on low for about 6 hours. Season to taste and garnish with a spoonful of Greek yoghurt and some chopped coriander. Serves 4.
Happy stitching,
Rachel