Newsletters
Annie's Ramblings - 28 November - 20% off Matilda's 60/40 wool batting!
Hi there...gracious me, it is nearly December! The year seems to have flown by. I am sure I say that every year, but I swear that life's carousel tends to speed up as you get older!
For those of you who forgot to read to the end of last week's newsletter, we have 20% of Matilda's 60/40 wool/poly batting at the moment. This must be pre-ordered and paid for before we cut it for you, but it is a good time to get those quilt tops out of the cupboard and stock up on the necessaries.
I am also excited to tell you that we are now a stockist of Yazzi Bags. Yazzi is an excellent brand producing top quality hand crafted bags, pouches, thread holders, FQ storage bags, sewing machine mats (the list is endless). They are an ethically sound product that is designed in Australia and made by craftsmen in India. They are also loved by designers such as Sue Spargo and Wendy Williams who have seen the potential embellish the bags with their designs to make them something truly unique.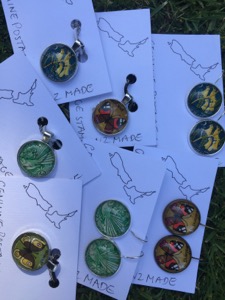 They make fantastic Christmas presents, so come and have a look in store or on our website now.
Speaking of ideal gift ideas, these gorgeous new earrings and pendants features genuine NZ vintage postage stamps have just arrived in store from Christchurch jewellery artist (and stamp collector) Cindy Allison. The earrings are $28.00 and the pendants are $24.00. I love them and have added several pairs of earrings to my own collection, but they would also be great to send overseas as a uniquely New Zealand gift.
Now...onto the recipe. Everyone loves meatballs and these are a good healthy option. These are great in a slider, with a dipping sauce or with pasta or salad.
Healthy Meatballs
200 g chicken mince
1 c grated zucchini
1 c grated pumpkin
1 small onion finely chopped
1 tbsp smoked paprika
½ tsp cayenne pepper
½ tsp mustard powder
Salt and pepper
Oil for frying
Mix all the ingredients together and them form into small balls. Pan fry the meatballs in a little olive oil until they are cooked through and golden.... (Makes about 12)
That's all from me this week, don't forget to get your ticket for the $10,000 (yes, ten thousand) draw when you make a purchase over $20.00 from Annie's. This will be drawn at Ashburton's Christmas in the Park event on December 7 and you must be there with your ticket to claim your prize. Good luck! (Somebody has to win it!)
Rachel
Annie's CQS