Newsletters
Annie's Ramblings 29th July 2021 - New Kits and Cake!
Hi there. Has your TV remote been hi-jacked? Is your viewing time being taken over by heats, finals, Olympic medal ceremonies, highlights and replays?
I feel your pain...it is jolly hard to stitch and watch the games, because as soon as you look away for a second you miss that winning goal, jump, or line call! I guess it will be all over soon and I will be back to listening to endless episodes of Grand Designs, Repair Shop, Police 10-7 and Emergency Room real life dramas. (You can definitely see who has the remote in our house!)
If you need to escape for a while, this Saturday (31st) is our monthly Woolly Stitchers Day.
This week I thought I would show you another couple of new projects.
The first one is the Matilda Mouse Pincushion from Two Brown Birds. This is easy project that you could make for yourself, as a gift for a friend or you could help bring out the creative streak in a child or grandchild. The kit is just $14.50, and you just need to add the stuffing. I used a combination of fibre fill and crushed walnut shells to give weight to the pincushion and keep your needles sharp.
https://www.anniesquilts.co.nz/cms/shop-online/product/2570-matilda-mouse-pincushion.html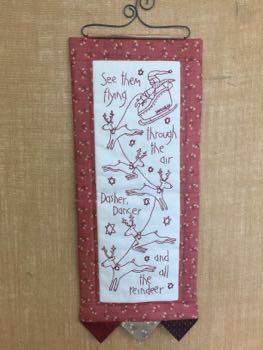 The other project I have put together is a kit is "Dasher and Dancer" from The Birdhouse. The stitchery is pre-printed and the kit ($45.00) includes pattern, all the fabrics to complete the project, pelon and DMC thread.
https://www.anniesquilts.co.nz/cms/shop-online/product/2569-dasher-and-dancer.html
Last week I talked about Deborah Louie's fabulous new book "The Theory of Walking Foot Quilting" for anyone who wants to quilt on domestic sewing machine. It is $59.90 and I have another 30 copies in transit. So if you missed out on the first round...don't fret!
Something to mark on your calendar for later in the year is the Christchurch Quilters Exhibition 13-17 October (complete with merchants including Annie's) at Papanui High School.
Now...on to the recipe. Who doesn't love cake...or cake with custard and ice-cream and call it dessert?
Prune and Ginger Cake
1 c pitted and chopped prunes
300 ml water
¾ tsp baking soda
50 g butter
1 c brown sugar
1 c brown sugar
2 lightly beaten eggs
1 ½ c flour
1 tsp baking powder
1 tsp ginger
¼ c crystallised ginger, finely chopped
Heat the oven to 160C (fanbake). In a saucepan heat the prunes with the water and when it comes to the boil add ¾ tsp baking soda. In a separate bowl cream the butter and brown sugar, add in 2 tbsp of the flour and the beaten eggs and remix. Add in the rest of the dry ingredients and then the cooled fruit and ginger. Bake in a 20 cm lined tin for about 30 mins or until firm and golden.
Next week we will be helping to install another Bernina Long Arm quilting machine for a very excited customer. J
The top tip from our mechanics in the workshop is to make sure that you keep oiling your sewing machine regularly. Not only does it make your machine run quieter it reduces wear on those moving parts. If you are not sure how to do this, just ask and we will show you. It is also a good idea to change the needle often too...not just when it breaks!
Happy stitching
Rachel
Annie's Country Quilt Store
03 3076 277
www.anniesquilts.co.nz