Newsletters
Annie's Ramblings 29th January 2021
Hi there. Once again the weather seems to be the hot topic of conversation with record high temperatures here. You know it is hot when you have no air conditioning and the idea of going to the supermarket and spending extended periods of time leaning over the freezers and trying to decide if you need frozen peas, corn or carrot seems like a good idea!
Anyway...it is almost time for the kids to get back to school, and for most of us to get out of the holiday mode and back into our routines.
Speaking of which our regular weekly classes will resume on Tuesday night the 9th and Thursday morning the 11th of February. You are welcome to give us a ring at the shop if you are interested in joining us and would like some more information.
I am quite happy to admit that I am a patchworker/quilter rather than a dressmaker, however I did make a new top using this pattern from Indygo Junction with fabric is called "Sangria" from Figo Fabrics, and reminds me of Manuka flowers. The pattern for the Gathered Back Top and Tunic is $28.00, and it was super easy (sizes from XS-3XL) and a pleasure to make. It is also a pattern I think you could you again and again altering the length of the hem and the sleeves to suit.
https://www.anniesquilts.co.nz/cms/shop-online/product/2466-gathered-back-top-and-tunic.html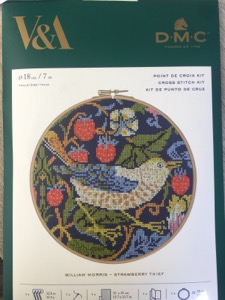 If you are looking for a new cross stitch project this could be it. "Strawberry Thief" from William Morris is a complete kit with 7" (18 cm) hoop, 14 ct navy Aida and DMC threads ($85.00). This project is inspired by works at the V&A Museum in London and it is well worth looking at their website www.vam.ac.uk A visit to this museum is definitely on my bucket list!
https://www.anniesquilts.co.nz/cms/shop-online/product/2467-strawberry-thief-cross-stitch-kit.html
This week's recipe is a tasty and filling recipe that can be served hot or cold, and can be adapted to use whatever vegetables you have on hand. As individual serving cooked in partly filled muffin tins they also make good lunch box fillers.
Pumpkin and Rissotto Cake
400 g diced pumpkin
500 ml of chicken or vegetable stock
2 large onions, diced
2 cloves garlic
250 g Arborio rice
50 ml olive oil
½ c pumpkin seeds
1 spring onion
Fresh sage
¼ c parmesan cheese
3 eggs
Salt and pepper
Cook the pumpkin in the chicken stock. Strain and reserve half. Puree the rest of the pumpkin into the stock.
Saute the crushed garlic, onion and rice in the olive oil until just clear. Gradually add in the stock stirring all the time until the rice is cooked. Stir in the pumpkin seeds, herbs and cheese, salt and pepper. Lastly mix in the beaten eggs and combine. Place the mixture into a greased dish and bake at 190C for 15-20 mins.
Happy stitching.
Rachel
Annie's Country Quilt Store
www.anniesquilts.co.nz