Newsletters
Annie's Ramblings - 4 December 2019 - Clam Shell Class
Hi there. This week I think the courier drivers have been on auto-pilot to Annie's with large boxes of fabric, sewing machines, batting and international parcels arriving every day!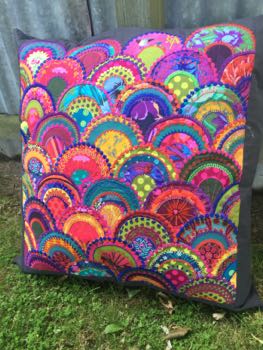 I have lots of exciting things happening for next year with visiting tutors, classes, new projects and BOM's and one of the first up is the Clam Shell Cushion (or quilt) using Deborah Louie's pattern and templates to create this very eye catching piece.
This two day class is a great way to get to know your machine and make use of all those fancy stitches that you never thought you would use. The cost of the two day class is $125.00 and this includes your pattern and acrylic template set ($59.00) and is scheduled for 1-2 February. More details on the class page of the website.
While I was in Melbourne last month I met two delightful Australian ladies who make up the pattern design team "Max and Louise". These girls specialise in reproduction quilt pattern and have also designed their own fabric ranges through Andover Fabrics. They were also responsible for my luggage allowance being pretty marginal on the way home! The patterns have been added to the Annie's website and you can check them out here.
https://www.anniesquilts.co.nz/cms/shop-online/manufacturer/291-max-and-louise-pattern-co.html
Just as an aside....I am sure I don't have to remind you that now is a very good time to buy fabric, but to give you a bit of a heads up, the drop in the value of the kiwi dollar against the USD means that next year there will be definitely be some price increases.
On a brighter note there we still have 30% off our batik fabrics, buy two get one free on a whole box of fat quarters, 50% off selected fabrics, 20% off Bernina and Bernette accessories and some great Christmas savings on sewing machines and overlockers.
This week's recipe is a handy lunch or Sunday night tea dish particularly as we are approaching zucchini season.
Potato and Zucchini Frittata
500 g potatoes
2 large zucchini
4 eggs
¾ cup milk
¾ c cream
Salt and pepper
Large pinch of nutmeg
Peel and parboil the potatoes. Allow to cool and then grate. Grate the zucchini and squeeze to remove excess moisture. In a large bowl whisk the eggs, milk, cream and seasonings and then add in the vegetables. Heat a little oil in a heavy bottom saucepan (one with an oven proof handle). Pour in the mixture and cook for 2-3 minutes on the stovetop to set the base. Bake in the oven for 40 minutes at 180 C until golden. Serves 4-6.
Before I forget, the winner of the Annie's CQS $50.00 voucher for November is Kathy Wilson from Ashburton.
Rachel
Annie's CQS
This email address is being protected from spambots. You need JavaScript enabled to view it.