Newsletters
Annie's Ramblings 21 July 2023 - Embroidery and Quilting!
Hi there,
What a busy week it has been! We have lots of exciting things coming up in the next few months with classes, exhibitions, and another retreat on the horizon.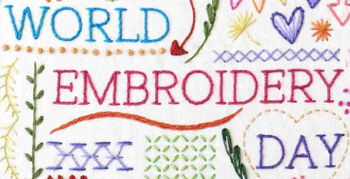 We are pleased to hosting the Ashburton Embroiderers Guild members with an exhibition of their work 27-29 July and to celebrate World Embroidery Day with a stich-a-long in the classroom at Annie's on Saturday the 29th (10-4). Everyone is welcome to come along, join in, ask questions and make the most of the opportunity to see the work of these very talented ladies.
We are also very lucky to have Christchurch quilter and textile artist Catherine McDonald coming to teach for us at Annie's on Saturday 15 September. Her "Slow Stitch Scrolls" are a gorgeous combination of machine and hand stitching and embellishing to create one-off unique pieces. The class is $45.00 and krachelits are available or you are welcome to bring along all those favourite fabric scraps, beads, threads, buttons, charms and embellishments that you have been saving up for that special project that you have been meaning to start on.
This is a fun relaxing class in which you can learn and experiment with different techniques and be inspired, so don't miss out – book your place in the class today!
If you fancy a weekend away in Hanmer Springs we still have a few places left for our next Stitching Retreat which is coming up at the end of September (29-1 October). More details are on the class page of the Annie's website or you are welcome to phone us for more details.
Don't forget we have our Wool Stitching Day tomorrow (22 October) and next Friday night 28th is our free Cross Stitch night from 5-8pm – everyone is welcome.
Now....onto the recipe. These little savoury biscuits are delicious anytime – try them with different combinations of nuts and seeds.
Parmesan and Walnut Shortbread
1 ¼ c plain flour
Pinch of cayenne pepper
175 g chilled butter
1 cup grated parmesan
2/3 c walnut pieces
Preheat the oven to 180C (or 160C fan forced). Place the flour cayenne and butter in a food processor and mix until a fine crumb forms. Add parmesan, toasted walnuts and a tablespoon of iced water and pulse until the mixture forms a ball.
Roll out the dough to about 1 cm thick and cut into shapes. Bake for 15 mins or until golden.
Best wishes and happy stitching from the team at Annie's CQS.
Rachel
03 3076 277
www.anniesquilts.co.nz
PLEASE NOTE:
Due to staff shortages we will be closed on Sundays until further notice.