Newsletters
Annie's Ramblings 4th August 2021 - Don't forget to eat your Veges!
Hi there. It is pretty hard to deny that our whole lives have been turned upside down over the past couple of years in lots of ways, but isn't it great to see how we have adapted, tried new things, and rediscovered the art of being a tourist in our own country.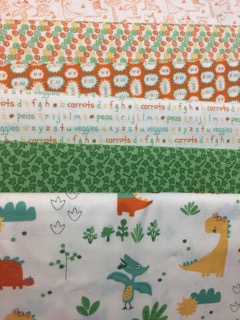 We are about to head south for a few days with our first stop at Mt Cook, so I will let you know how that goes. I will have my stitching and walking shoes on board while keeping an eye out for any antique shops along the way!
At Annie's it will be business as usual with our amazing staff taking care of things and dealing with some of the new fabric that has just arrived in.
This really cute range called "Eat Your Veges" from Riley Blake featuring dinosaurs is pretty cool with lots of co-ordinating prints. Ideal for quilts, bags, pillows as well as summer shorts, tops and skirts or bibs for the little people in your life. It is $32.00 pm or the Fat Quarter bundle of 7 fabrics is $56.00 which you could use to whip a simple cot quilt using 5" squares, half square triangles or square in a square in no time!
More Japanese fabrics, cotton linens and some really gorgeous prints in varying shades of soft blues are also part of this shipment.
I also thought I would show you this "Pretty in Pink 9-Patch Quilt" that I finished recently using fabrics from the Tilda range. I have put this together as a kit ($237.00) or the pattern designed by Rosalie Quinlan is just $12.00. The finished quilt is 78" or 198 cm square. I used some of the spare blocks as part of the quilt backing. You could also make 2 smaller quilts if you prefer.
https://www.anniesquilts.co.nz/cms/latest-products.html
This week's recipe is an oldie, but a goody and great family comfort food served with mashed potato and your favourite winter vegetables.
Golden Sausages
1 kg sausages
1 large onion
3 tbsp flour
2 tbsp Worcester sauce
3 tbsp white vinegar
2 tbsp brown sugar
2 tbsp soy sauce
2 cups water
Sea salt and ground pepper to taste
Brown the sausages and chopped onions in a pan. Place all the other ingredients in a crock pot whisking to remove any lumps. Add in the sausages and onion and cook on low for 3-4 hours on low or until golden and bubbling.
Happy stitching
Rachel