Newsletters
Annie's Rambling's 28 August 2023 - New Block of the Month from Anni Downs coming soon!
Hi there,
I am sorry we have missed a couple of newsletters as I have been away, firstly catching up with grand baby cuddles in Australia, and just last weekend spending time with Capital Quilters in Wellington. Check out the Annie's Facebook page to see the Snazzy Sneakers that were created out of the class I was teaching – they are very cool! Well done ladies, and thank you for the hospitality.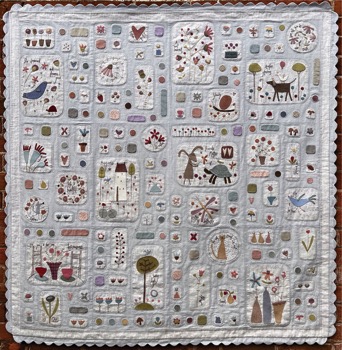 On to all things new and exciting....my friend Anni Downs from Hatched and Patched has done it again with another amazing Block of the Month design with a gorgeous combination of wool applique, simple embroidery and quirky designs that will be released in another couple of months. We are taking expressions of interest for "Happyland" now, with more details and pricing to come once the patterns, wool packs and fabrics are ready.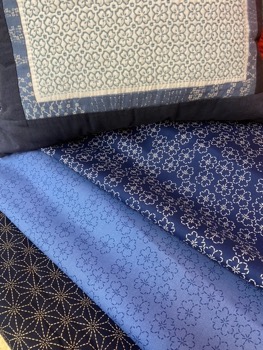 More fabric has arrived in this week including some more from Kaffe Fassett, and these sashiko inspired designs which will a perfect accompaniment for all those Japanese stitching projects.
Our Wednesday evening "Dressmaking and Alternations" class starts again next week, with tailoress Paula Preece who is the expert when it comes to fitting your garments to suit you, with lots of tips, hints and tricks along the way. You can phone us for more details, or check on the class page of the website.
While you are on the class page, have a look at what Catherine McDonald has lined up for us in the Slow Stitching class on Saturday the 9th of September.
I think everyone is talking about the cost of living at the moment, so here is a quick, easy, nourishing and filling soup recipe that is delicious and will make the food budget stretch to buying fabric!
Sweet Corn Soup
2 tsp oil
3 spring onions
1 tsp sesame oil
3 cups vegetable stock (you can make your own by saving the cooking water from your boiled vegetables during the week and combining this with the stray vegetables in the bottom of the fridge and some salt, pepper and herbs to make a tasty broth)
1 can each of cannelli beans, sweet corn kernals, creamed corn
You can also add in extra vegetables to your soup such as left over potato, pumpkin or kumara.
Heat a large pan and cook the onion for about a minute, then add in the stock and bring to the boil. Add in the rest of the ingredietnts and simmer for 5 mins.
Blend together to the desired consistency and season to taste.
Serve with toast or hot scones.
***Coming up on the Calendar...I will be bringing Annie's to Hanmer Springs Memorial Hall for our weekend retreat 29 September-1 October, and Golden Bay at Labour weekend as I will be a merchant for the exhibition at the Collingwood Hall. If you are in the area, make sure you pop in and say hello!
Best wishes and happy stitching from the team at Annie's CQS.