Newsletters
Annie's Ramblings 29 May 2020 - Open all long weekend!
Hi there. It is all good news this week! Yes Annie's is open all weekend including the Queen's Birthday! Yes, our classes are starting up again. Yes, our annual retreat in Akaroa is back on! Yes, we have plenty of stock, including some stunning new fabrics that arrived this week!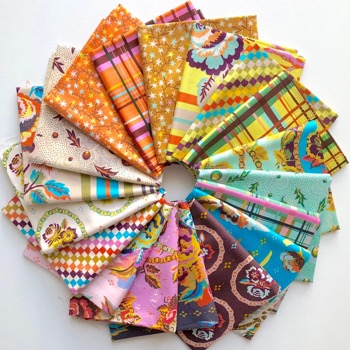 Just arrived in is the "New Vintage" fabric range from Australian designer Kathy Doughty. There are some great feature prints in this range and they will work well with other ranges from Anna Maria Horner as well as the Kaffe Fassett spots and stripes. If you need more inspiration we also have Kathy's books 'Mixing Quilt Elements' and 'Organic Applique' in stock.
If you have given your stash of reproduction fabrics a bit of a hiding over Lockdown, we are unpacking some gorgeous new fabrics from Jo Morton. There is also some new prints to add to our collection of Tim Holtz fabrics and some fabulous new fabrics from Moda that will work perfectly as borders or sashings with your sashiko stitching.
We are also building up our collection of cross stitch, linen and threads, and if there are patterns or threads that you are after, I am happy to try and source these for you.
In between working in the shop, looking after her family, reading and quilting, Marelize has well and truly caught the cross stitch bug. She has just finished this stunning design "All Joys for Thine" from Blackbird Designs. The pattern is $22.00, and as I said we have the linen and threads available to go with it.
As I mentioned, with the relaxing of the Covid19 rules with regards to gatherings, our regular classes will resume Tuesday 16th June and Thursday 18th June. We are still planning to hold our annual retreat in Akaroa the first weekend in July. Please let us know if you are keen to join us and I will send you the details. It is exciting to once again have some things to look forward to!
This week, I thought I would share another quick recipe that would be a good snack, 'take a plate', side dish or a way to get the kids to eat vegetables – also good for gluten free and vegetarian appetites.
Indian Potato and Pea Patties
500 g potatoes
2 tbsp chickpea flour
1 c cooked peas
2 tbsp desiccated coconut
Juice of 1 lemon
2 tbsp chopped coriander
½ tsp salt
½ tsp chilli powder
½ tsp ground turmeric
½ tsp ground cumin
¼ tsp garam masala
Oil for frying
Peel and boil the potatoes and then mash them with the chickpea flour. Mix in the mashed peas, coconut, lemon juice and seasonings. Shape into small patties and fry in oil until crisp and golden.
Happy stitching,
Rachel
Annie's CQS
This email address is being protected from spambots. You need JavaScript enabled to view it.