Newsletters
Annie's Ramblings - 25% off batting!!!
Hi there. This week we have a great special on top quality quilt batting that is not to be missed!
Thanks to a bulk deal with our supplier we are able to offer 25% off Matilda's 60/40 wool batting (my favourite batting) making it $27.00 per metre instead of $36.50 so this is the time to stock up and save!
There is just one little condition... you need to pre-order. Let us know how much you need and we will cut it in the classroom (where we have a bit more space) and have it ready for you to pick up or post out. Matilda's Batting is 2.4m wide, pre-shrunk, and permanently moth proofed, Australian made product which is distributed worldwide.
The other exciting news is that we now have a definite date for the classes with well-known New Zealand tutor and Quilt Artist Griet Lombard. Griet has taught throughout New Zealand and at National Symposiums and will hold a one day ($95) and a two day workshop ($185) at Annie's 22-24 February next year.
The Friday class is called "Holy Felt" which involves making a collage of fabric onto synthetic felt and then embellishing both by hand and machine and then burning away some of the excess felt.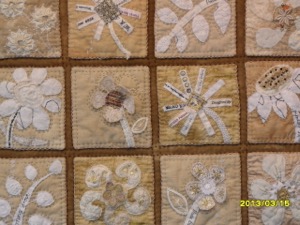 The Saturday/Sunday class is called "Winter Garden" and is made up of lots of individual mini quilts which are hand and machine embroidered and embellished using old laces, silks, satins, buttons and treasures that you have been collecting for the longest time and wondering what to do with! This is your opportunity to let you imagination go wild, choose a colour scheme and make the project your own.
I have been quietly asking Griet to come and teach for us for a long time now and I am really excited that I have finally persuaded her to venture south, as she is a very talented and very busy lady. So I hope you make the most of this opportunity...book early!
Speaking of classes.....our Woolly Stitchers group meet this Saturday. More details on the class page of the website....and don't forget that if you are in the market for a new overlocker, we have some great specials this month on the Bernina L450 and the Bernette B44.
Now, on to the recipe.... This is one that you can either cook in the oven or on the BBQ. Is it BBQ season yet???
Lemon, Honey, Soy and Sesame Chicken
2 tbsp honey
Juice and zest of a lemon
1/4 cup soy sauce
1 tbsp oil
2 tbsp sesame seeds
1 tsp fresh grated ginger
1 tsp sesame oil
8 skinless chicken thigh cutlets.
Mix the first seven ingredients together to make the marinade and then pour this over the chicken. Cover and refrigerate for 30 minutes.
Preheat the oven to 200C. Place the chicken on a rack over a meat dish in the oven and cook until the juices run clear, basting the chicken with the marinade occasionally while it is cooking.
Serve with salad, crusty bread and a nice glass of wine!
Happy stitching,
Rachel