Newsletters
Annie's Ramblings 18th November 2020
Hi there. Here we are tootling along towards the end of November and another week closer to Christmas!
It is not too late to start making a few handmade gifts, and we have most everything you need from fabrics, patterns, buttons, felts, threads, braids, scissors, pinking shears, needles and a lot more besides. Remember, that if you can't find it in the shop, just ask and we will do our best to get it for you.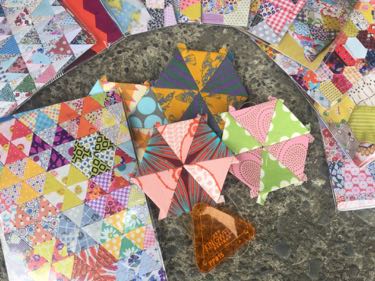 The Annual Bernina Christmas Sale started this week and runs right up until Christmas Eve with savings on machines as well as 20% off feet, trolley bags, gripper rings, quilting rulers and accessories. (Excludes bobbins, needles and bobbin cases.)
You can check out all the accessories on line at www.bernina.co.nz
Most quilters will admit to having a stash, and these little pattern and template sets that have just arrived in from Jen Kingwell are a great way to use up some of those little pieces of fabric that you have been saving.
There are a number of different patterns in the series and they can all be stitched either by hand or by machine in your preferred method, and at $14.00 each, why wouldn't you want the whole set??
https://www.anniesquilts.co.nz/cms/latest-products.html
I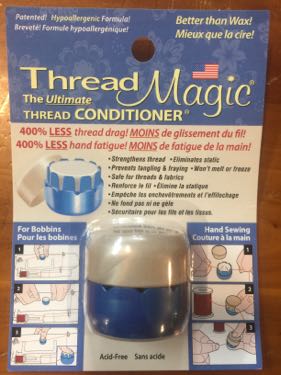 f you are looking for a thread conditioner which is particularly good for protecting your embroidery threads, prevents tangling and fraying and reduces thread drag by 400%, "Thread Magic" may be the answer to all your prayers. We have plenty in stock now ($22.00). It comes in an easy to use container that will last for ages. It can be used for your sewing machine threads as well, and is particularly good if you have a tricky metallic thread.
The ladies from our Friendship group that meets at Annie's on Wednesday mornings have been busy making their very popular fold up fabric shopping bags as part of their fundraising efforts for Ranui House and Ronald McDonald House. These venues provide accommodation for people receiving treatment at Christchurch hospital. They have restocked our supplies of bags at the shop here ($5.00 each) and they will also have a stand at the Christmas Market at the Ashburton Event Centre on November 29. A good thing to pop in the Christmas stocking!
Now...on to the recipe....one for the biscuit jar. These would also look great in a cellophane bag with some festive ribbon as a gift.
Chocolate Peppermint Biscuits
100 g butter
½ c sugar
1 c flour
1 well beaten egg
Pinch of salt
60 g cornflour
2 tbsp cocoa
1 tsp baking powder
¼ tsp baking soda
1 tsp vanilla
Preheat the oven to 160 C. Cream the butter and sugar and then add in the egg and vanilla. Add in the dry ingredients and mix well. Roll into small balls and place on an oven tray. Press with a fork and then bake for about 15 mins. When cool put together with peppermint icing.
P.S. Don't forget about our "Handstitcher's Retreat" at Lake Rotoiti in April next year. More details on the class page of the website.
Happy stitching,
Rachel