Newsletters
Annie's Ramblings 13th March 2022 - Treats for me and treats for you!
Hi there. Last week I had the pleasure of spending time with both of my daughters firstly attending my first ever painting class with Rosie, and then a Mexican cooking class with Beth. It reminded me how good it is to get out and try something new!
I am not sure that I will ever be an artist or a chef, but it is more about enjoying being creative!
Another treat was seeing this absolutely stunning "Dear Jane" quilt made by Nicky Bradley who is a extremely talented patchworker and quilter with seemingly endless enthusiasm for the craft. This quilt represents three years of solid hand piecing topped off with her exquisite machine quilting. If you are keen to tackle this marathon quilt, we do have the book and the English paper piecing kit to make it (this is by far the best method to achieve the accuracy that is required for these little blocks).
If on the other hand you feel the need for something small that you can make within a couple of hours, these little pouch kits with a pocket and a window in the front maybe just the ticket! Ideal for a card and some coins as you are dashing out the door, or you could make a stash of them to have on hand as a ready gift.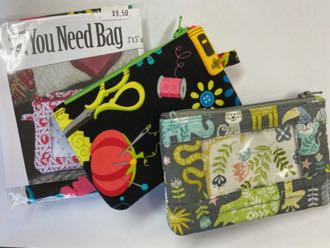 The kit for the "All You Need Bag" ($9.50) comes with pattern, zip, vinyl, fabric and vilene in these two colours or you could go for "Annie's Choice" if you would like us to pick some other colours for you. (If you are ordering on line, just put a note in the comments section.)
https://www.anniesquilts.co.nz/cms/shop-online/product/2710-all-you-need-bag.html
In terms of what is new in this week, more Grunge fabric, more Dutch Heritage, some Essex Linen, a Dr Seuss Print, and more NZ fabric, some spots and stripes – so not a bad haul really! I have a feeling that there might be some more large boxes arriving this week. :)
Before I forget....entries for the "Bernina NZ Travelling Exhibition Block Challenge" are closing soon, so why not give it a go. Entry forms are available from Annie's or on-line at
https://www.bernina.com/en-NZ/Learn-Create-NZ/Classes-Events/Challenges/New-Zealand/Quilt-Block-Challenge
Your finished 12" x 12" block or mini quilt needs to be delivered to Annie's or your nearest Bernina dealer by 31 March.
This week's recipe is a bit of a cheat...but pretty tasty all the same!
Raspberry and Plum Ice cream
2 cups of fresh or frozen plums
200 g frozen raspberries
1 T lemon juice
¾ c sugar
1 t ground ginger
1 tub of ice cream (2 litre)
2 Crunchie bars
In a heavy saucepan combine the chopped plums, raspberries, sugar and lemon juice and simmer on a medium heat until the plums are tender and the mixture has thickened. Add the ginger and taste for sweetness and adjust to your liking. Leave to cool.
Soften the ice cream and place in a large bowl. Crush the Crunchie bars into pieces and add 1 bar to the ice cream along with the plum mixture and leave the other bar for the garnish. Mix well, spoon the ice cream back into the tub, cover and refreeze for several hours. Serve with more fresh or frozen berries and sprinkle with the remaining Crunchie bar (if you haven't eaten it already!)
Take care and happy stitching,
Rachel