Newsletters
Annie's Ramblings 15th February 2022 - Super special on Mini Steam Irons!
Hi there. With floods, protesters, rising food and fuel prices as well as snow on the hills in February it has been an interesting month. It does make you wonder what March will bring – hang on for the ride!
At this point there is a great temptation to bury yourself in your sewing room, surround yourself with fabric and new projects and not come out for a realllllly long time!
(Never fear....at Annie's we have fabric, and lots of new projects. Just let us know what you need and you can pick it up or we can post.)
To help with the sewing room set up we have a special on the Mini Steam Irons – these are great to have set up beside your sewing machine for your piecing and applique work with a wool ironing pad as well as for taking to class. We also have patterns and kits for the Iron Caddy, which acts as a heat resistant ironing pad as well as a handy carry/storage bag.
Elsewhere these are priced up to $100 each, however with a bulk buy we are pleased to be able to offer the Mini Steam Iron to you for $69.00 each.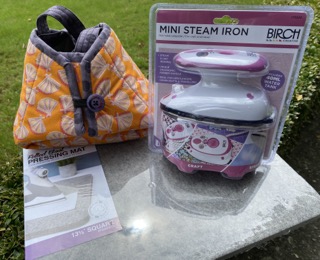 The other thing I would like to show you is this little cross stitch that I have just finished from Carriage House Samplings. This includes both designs pictured and is worked in DMC threads and available as a pattern ($24.00) or a kit ($42.00) Sometimes where cross stitch is concerned small projects are good! (In amongst the larger ones!)
Just a quick reminder that this Saturday is our Woolly Stitchers Day at Annie's from 10-4, as a warm sunny day is forecast it will be an outdoor class with the tables set up under the trees so that masks will not be compulsory. More details on the website.
On to the recipe...
Cinnamon and Apple Muffins
250 g of grated apple (leave the skin on)
1 cup plain yoghurt
¼ vegetable oil
1 large egg
¾ c white or brown sugar
1 c each of white and wholemeal flours
½ c chopped walnuts
3 tsp baking powder
2 tsp cinnamon
½ tsp salt
Preheat the oven to 190C. Place the apple, yoghurt, oil and egg in a large bowl and mix to combine. Fold in the dry ingredients. (Don't over mix or the muffins will be tough).
Put spoonfuls of the mixture into greased muffin pans and bake for about 12 minutes.
Take care and happy stitching.
Rachel
Annie's Country Quilt Store
03 3076 277