Newsletters
Annie's Ramblings 23 September, 2015
Hi there, well the car (and trailer) is nearly packed and I am about to hit the road for Nelson as I am a merchant for the Nelson Embroiderers and the Nelson Quilters over the next two weekends, so it will be great to catch up with all those busy stitchers from the 'top of the south' again.
Lots of new fabrics have arrived that I ordered when I was at Quilt Market in Minneapolis and I am really excited about getting stuck in and making up some new quilts and samples over the next few weeks…I just need to work on being home for long enough and clearing the decks of all the other projects. In the meantime, my traveling hand projects are to the fore!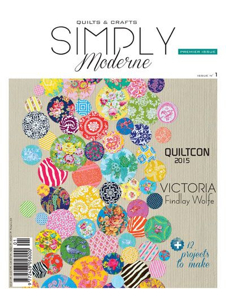 The latest postings of the Colmar Block have just gone out and the mystery is now revealed. Once this program is complete the balance of the fabrics will be available. We also have extra stocks of the starched cheese cloth in stock which we have imported from France especially for this project allowing for the detailed trupunto work.
I am also really excited about the new Quiltmania magazine "Simply Modern" which has just arrived in the shop. This is $22.00 and packed full of fresh new ideas and more than 12 projects to inspire you.
If you are after a challenge of a different kind, Rowan are celebrating 20 years of designing by the legendary Kaffe Fassett with a competition to design a "Fassett-nator". The prizes are impressive and you can get all the details at this address.
http://www.makeitcoats.com/en-us/discover/articles/kaffe-fassett-nator-anniversary-contest
Now that we are approaching salad season, this week I thought I would share with you a super simple fresh recipe. You could use green beans rather than courgettes if you prefer.
Avocado, Courgette, Quinoa and Almond Salad
Make a salad dressing of orange zest and juice, olive oil, and freshly chopped chives. Mix in a bowl with cooked drained quinoa. Chop the courgette into matchsticks. Gently mix through diced avocado and then scatter with toasted almonds.
Well, that is all from me this week, take care and happy stitching.
Rachel