Newsletters
Annie's Ramblings 29 July, 2015
Hi there. You know I was thinking the other day about what I would grab first if the house burnt down (that is not something I wish to dwell on by any means), and I came to the conclusion that perhaps I should place my hand stitching "works in progress" within grabbing distance of the nearest exit! Scary thoughts huh? But I am not good at 'do-overs'.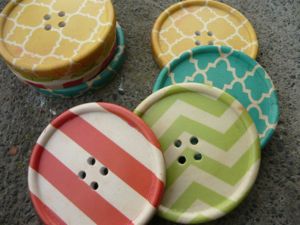 As a compromise, perhaps it is just a really good time to check that all the smoke alarms are working.
Anyway…on a more cheerful note, more parcels have arrived this week (and yes, the courier companies definitely know where Annie's is!) with the new Bon Voyage from The French General, beautiful wool fabrics, more stock of the very popular Fat Quarter Pop Up pattern as well as the Gardenvale range from Moda's new Australian designer Jen Kingwell.
Also new, in fact hot off the courier, are these very funky ceramic button coasters – something to brighten up your home or they would make a great gift at $24.50 for a set of four.
Another of the hand projects that I have on the go at the moment is this really neat little stitching carry all from Hugs and Kisses. My friend has made this one which is absolutely beautiful, while mine is still a work in progress using the new Tilda fabrics that we have in stock. The pattern is $22.50 and includes the iron on transfer as well as the hexagon shapes.
This week's recipe is a very tasty accompaniment to cheese and crackers or as an edible gift for someone special. It makes about 2 ½ cups, but you could also halve the recipe if you like.
Fig and Rosemary Spread
2 ½ c dried figs
2 tbsp finely chopped fresh rosemary
½ t salt
½ t freshly ground black pepper
Zest of a large orange
1 cup fresh orange juice
1 tbsp honey
½ c water
Put all the ingredients in a medium size saucepan, cover and bring to the boil. Simmer for about 30 mins until the liquid is thick.
Drain the figs reserving the liquid which should measure ¾ cup. Add a little extra water if needed. Put the liquid and the figs in the food processor and whizz until smooth. Place the spread in clean airtight jars and store in the fridge. (It can also be frozen).
Well, that is all from me this week. Take care and happy stitching.
Rachel