Newsletters
Annie's Ramblings 18th June, 2014
Good morning. You know, every so often we need a bit of a shake-up. (Not literally!) Last week I attended a 'Women in Business' seminar which challenged my thinking both on a business and personal level. Hence I am now back on the diet and exercise routine and setting new goals for the future! Yikes!!!! Look out, I could be dangerous!
The other thing that I thought was interesting is that according to research, it is now women in the household who make the majority of the buying decisions. If you think about it, who buys the groceries, the appliances, books the holidays, clothes the children, makes the restaurant bookings, does the gift buying and decides on the furnishings in your home?
Anyway, moving right along. Now that I know that you have the purse well and truly in your grasp, I have been having a lovely time at the Gift Fair this week buying all kinds of goodies to tempt you. Stay tuned….parcels will start arriving in the next few days!
I have also been working on a number of small kits and projects lately like this one from Anni Down's Simple Stitching range. This little bag is the ideal thing if you need to take your coffee/tea cup to work or to stitching and there is also plenty of room for a muffin or a muesli bar or something if you need an energy boost. The pattern which comes with the pre-printed stitchery is $16.50 or it is available as a kit in either green/orange or blue colour options for $36.00.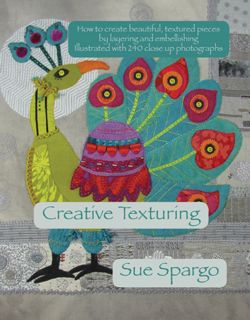 The other great news this week is that Sue Spargo has a new book which is due for release any day, and yes, I have placed a large order for these. It is called 'Creative Texturing' and will be the same price as her very popular 'Creative Stitching' book at $48.00. The books should be arriving at Annie's in the next couple of week's so if you would like me to put your name on a copy, please let me know.
This week's recipe is one for Rewa as she has been asking me for soup recipes.
Spicy Kumara and Sweetcorn Soup
2 cups of finely sliced onions
4 cloves of minced garlic
2 tsp smoked paprika
1 tsp ground coriander
¼ tsp cayenne
900 g diced kumara
8 cups chicken broth
1 tin of creamed corn
Salt and pepper to taste
Melt the butter in a large saucepan and add the onion. Add the next four ingredients and stir for 1-2 minutes until fragrant. Add the kumara and toss until coated.
Add the broth and simmer until the kumara is cooked. Process with a stick blender, then add the corn and season to taste.
Now…if you have a few minutes (or more to spare) and need a spot of quilting inspiration have a look at these stunning antique quilts. This is a good reminder that we are making the antique quilts of the future!
http://www.pinterest.com/search/pins/?q=antique%20quilts
Take care and happy stitching.
Rachel
Annie's CQS