Newsletters
Annie's Ramblings - New Fabric, Cross Stitch and Hangers
Hi there!
Doesn't it feel great that life has pretty much returned to normal? Our classes started again this week and it has been great to catch up with everyone again, hear the stories and see the amazing work that has been done while we have been 'locked down'.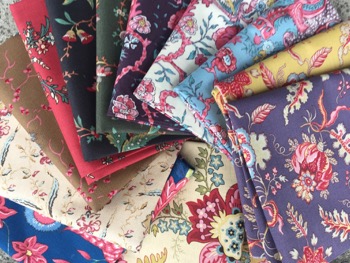 Lots of parcels have been arriving including a stunning collection of Dutch Heritage fabrics from Petra Prins which I am really excited about. These are really beautiful fabrics and ideal for all those reproduction quilts and paper piecing projects that you have had on the 'to-do' list, just waiting for the right fabric. Fat quarters, fat 1/8th's and whole bolt loads are available now at $38.00 per metre.... these will be on the website in a few days ...
We have also had a shipment of Kaffe Fassett stripes. These are really cool and I already have the first sample made – I will show you this one once it is quilted. I have also ordered the full range of Kaffe shot cottons which I am hoping won't be too far away.
There has been a bit of a drought in the quilt hanger department lately due to the retirement of my main supplier who decided to retire in his mid 80's! However, I am pleased to say a new supplier and a new shipment has meant we have a lovely new range in stock which are currently being added to the website.
https://www.anniesquilts.co.nz/cms/latest-products.html
If like me you are crazy on cross stitch samplers (or just love collecting the patterns thinking that you live to 150 with your nimble fingers and perfect eyesight in tact), this new one from Blackbird Designs is a must have. Offered as a chart it is $36.00, although the linen and threads will also be available. We are now taking pre-orders for "Come Into My Garden".
Don't forget if you are in need of some time out for stitching, some laughs and good company, it is not too late to join us for our annual retreat to Akaroa (July 3-5). Check out the class page on the Annie's website or phone me for more details.
This week's recipe is quick and easy with just a little planning ahead the night before. Delicious served with rice or salad.
Tandoori Chicken Drum Sticks
8 fresh chicken drum sticks
4 tbsp natural yoghurt
2 tbsp lemon juice
4 tbsp tandoori paste
Cut slits in the chicken drumsticks with a sharp knife. Mix all the other ingredients together and spread the paste over the drumsticks. Marinate in the fridge overnight.
Preheat the oven to 220C and bake the drumsticks on a rack in a roasting dish until they are golden and cooked through (about 25-30 minutes). Can also be cooked on the barbeque.
Happy stitching,
Rachel
Annie's CQS
This email address is being protected from spambots. You need JavaScript enabled to view it.