Newsletters
Annie's Ramblings 3 September, 2015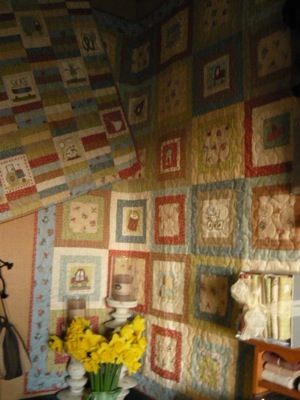 Hi there. We are just back from some very wet and windy days in Nelson. However, as the man in the Service Station said, "If this is Nelson weather, you have to know that it is a whole lot worse somewhere else!"
We have had a great couple of days with Sue Spargo, introducing stitchers and quilters to her techniques and styles, with another very busy weekend coming up in Ashburton with the Trunk show and workshops we have planned.
This week I would also like to show you a couple of quilts made with Anni Downs's new range of fabric "About a Boy". I have put this together as a kit (a free pattern is also included) for the big quilt, however there is enough fabric in the kit for you to make this smaller cot quilt or play mat for free with the pieces that are left over! Or if you prefer you could make a series of little cushions or book bags, nappy bags and accessories. The kit is $299.00 or you can purchase the panel on its own for $18.00.
Given that Father's Day is just around the corner, this is a sweet treat to warm the heart of anyone who enjoys a wee tipple.
Whiskey (or Brandy) Cake
2 x 250 g packets of digestive biscuits
750 g dark chocolate
300ml cream
1 cup of each: whiskey, chopped dried figs, apricots, prunes
Line the base and sides of a 23 cm spring form cake tin with baking paper. Coarsely crush the biscuits. Melt the chocolate and cream and whisk together until combined. Remove from the heat and add in the whiskey.
In a large bowl mix the dry ingredients with the chocolate mixture and pour into the prepared tin. Smooth the top of the cake and set aside in the fridge of several hours or overnight.
I know that you are all waiting with baited breath wondering who won the $50.00 voucher from Annie's for August, however as I am out of town, I will let you know next week when I am home to make the draw.
In the meantime, have a great week.
Rachel