Newsletters
Annie's Ramblings 29 October, 2015
Hey there, another week has flown by and it is hard to believe it is nearly November! So many projects, so little time! However, I guess most of New Zealand will be at a stand still early on Sunday morning as we await the outcome of the rugby. "Go the Allblacks!!"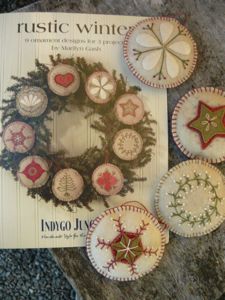 It is definitely time to pull out those Christmas projects and get stitching like crazy. Kaye has been working on the sample of these gorgeous decorations which you could hang on a wreath or a tree. I have limited stocks of the book Rustic Christmas, with more stocks arriving in the next couple of weeks, and of course we have all the wool fabrics and threads you need as well.
If you are busy working on some wool applique projects or wanting to build up a bit of a 'wool stash', see Annie's Website for wool packs. They are great way to get a good selection of colours without too much out lay. There are scrap bags which are $46.00 each and packets of 200+ pennies or squares for $38.00 each
As a way of getting into the spirit of things, I am also taking 25% off all the decorations on our Christmas tree in the shop, however I am sorry this will be a come in store and have a look type of deal, unless you would like to name your figure and let us choose a selection of decorations for you, as lisiting them all on the website is more of a mission than I need this week.
If you are looking to make a trip to Melbourne in April next year, it may be well worth your while to check out the Australian Quilt Convention . Registrations are now open and there are plenty of classes, exhibitions and lectures on offer as well as merchants. www.aqc.com.au
Anyway, there is much to do so I am moving right on to the recipe. These are delicious!!!
Toasted Seed Risotto Balls
1 L of reduced salt chicken or vegetable stock
2 tbsp olive oil
3 spring onions
2 cloves of crushed garlic
275 g risotto rice
25 g blue cheese
25 g Edam cheese
150 g mixed seeds (sunflower, sesame, pumpkin)
cooking spray
Bring the stock to the boil and simmer gently. Heat the oil in a grying pan and add the spring onions.
Add the garlic and the rice and cook for a further 1-2 mins, but don't allow the rice to colour.
Add the stock to the rice 1/2 c at at time, stirring constantly until the liquid is absorbed and the rice is just cooked. Stir in the grated cheeses, and leave to cool completely.
Using damp hands form the risotto mixture into 12 balls. Put the seeds in the food processor until they resemble rough breadcrumbs.
Put the seeds on a plate and roll the balls in them to cover.
Place the balls on a tray lined with baking paper and chill for 10 mins before lightly spraying them with a little oil. Place the tray in the oven preheated to 190C and cook for 15-20 mins until the outside is golden and crisp.
Serve with a crispy green salad.
Take care and happy stitching
Rachel
Annie's Country Quilt Store
(03) 3076 277
www.anniesquilts.co.nz