Newsletters
Annie's Ramblings - 16th November 2023 - Gorgeous Petite DMC Cabinet
Hi there. Have you made it to the back of the cupboard where all the dead Christmas decorations live yet? It is not too late to whip a few new ones for this Christmas...we have kits, patterns, cross stitch,
fabrics, felt, beads, threads, Christmas buttons and everything you need for all those festive projects. Don't forget that we also have Annie's gift vouchers if you are stuck for ideas.
Looking for a present for yourself...I have just the thing. This gorgeous Petite DMC cabinet ($499.00) would be a gorgeous addition to your sewing room and comes with a huge collection of DMC stranded cottons and a free pattern.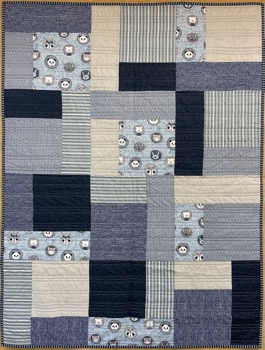 This week I also thought I would show you this quick easy kids quilt that we have available as kit ($59.90). Need a present for a new baby? This is a quilt top that you can whip up in an afternoon. I have quilted it very simply with straight lines of big machine stitching across the quilt. A Clover chalk marker, DMC water soluable marker or Frixion pen that disappears with steam are all good options for drawing your lines, which of course we also have in stock ☺
After a very busy few weeks with trips and shows from one end of the South Island to the other we have finally been able to unpack the trailer, restock the storeroom. This also means making room for new stock, rediscovering some others and topping up our box of special fabrics which are just $20.00 per metre. There are some great fabrics in there, ideal for quilt tops, backings, bags or just collecting because they are pretty and you NEED more fabric, and lets face it everybody loves a bargain.
Before I forget the winner of the Annie's $50.00 voucher for last month is Helen Tatham from Temuka. Congratulations Helen, your voucher is here waiting for you..see you soon!
Back to the Christmas theme...I think Christmas presents that you have put some love and creativity into are great, as well as chocolate, wine and other treats of course. This recipe is one that is great for the barbecue season and can be packed into pretty jars or cellophane bags.
BBQ Meat Rub
1/3 c garlic powder
1/3 c dried onion flakes
1/3 cup mustard seeds
1/3 c raw sugar
3 ½ tbsp dried mixed herbs
2 ½ tbsp ground cumin
2 ½ tbsp paprika
2 ½ tbsp freshly ground black pepper
1 ½ tbsp celery salt
1 ½ tbsp cornflour
Mix all the ingredients together and pack into airtight containers. Attach a tag listing the ingredients and instructions for use. "Rub into the surface of the meat 30 minutes before grilling or roasting. Or make a marinade by adding 1-2 tbsps of spice mix to 1 cup of oil and ¼ cup of vinegar.
Best wishes and happy stitching from the team at Annie's CQS.
Rachel
03 3076 277