Recipes
Potato, Onion and Thyme Galette
3 medium size potatoes, scrubbed and sliced 2-3 ml thick
3 eggs
2 onions thinly sliced
3 cloves of crushed garlic
2 sprigs thyme
3-4 tbsp olive oil
200 g crème fraiche
150 g feta cheese
Salt and pepper
Preheat the oven to 200C and grease a tart or quiche dish. Place the potato slices in a pan of cold water with a pinch of salt. Bring to the boil and simmer for 3 mins then leave them to drain well in a sieve.
Heat the oil in a fry pan and then add the potato, onion, garlic and thyme to the pan and cook until golden. Cool.
In a bowl lightly beat the eggs, crème fraiche, salt and pepper and then add the feta. Spread half the potato mixture into the quiche dish and spread the egg mixture. Repeat this layering and then bake the dish in the oven for 30 mins or until golden and set. Serve warm or cold with a crisp salad. Serves 6.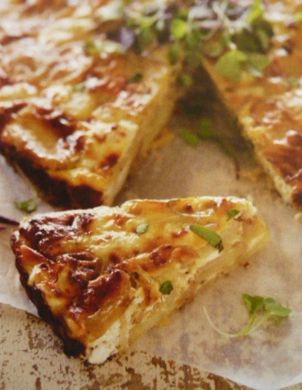 Muesli Bar Slice
2 c of each rolled oats and cornflakes
1 c flour
¾ c raw sugar
½ c each of chopped dried apricots and cranberries
70 g each of chopped almonds and cashews
1 tsp baking powder and ginger (or cinnamon)
200 gm butter
½ c golden syrup
1 tbsp sesame seeds
Preheat the oven to 180C.
Mix together the oats, cornflakes flour, dried fruit, nuts, seeds, baking powder and spices in a large bowl. Melt together the sugar, golden syrup and butter. Whisk until combined and then pour over the dry ingredients.
Press into your greased dish and bake for 20 mins or until golden and firm. Leave to cool and then cut into bars.